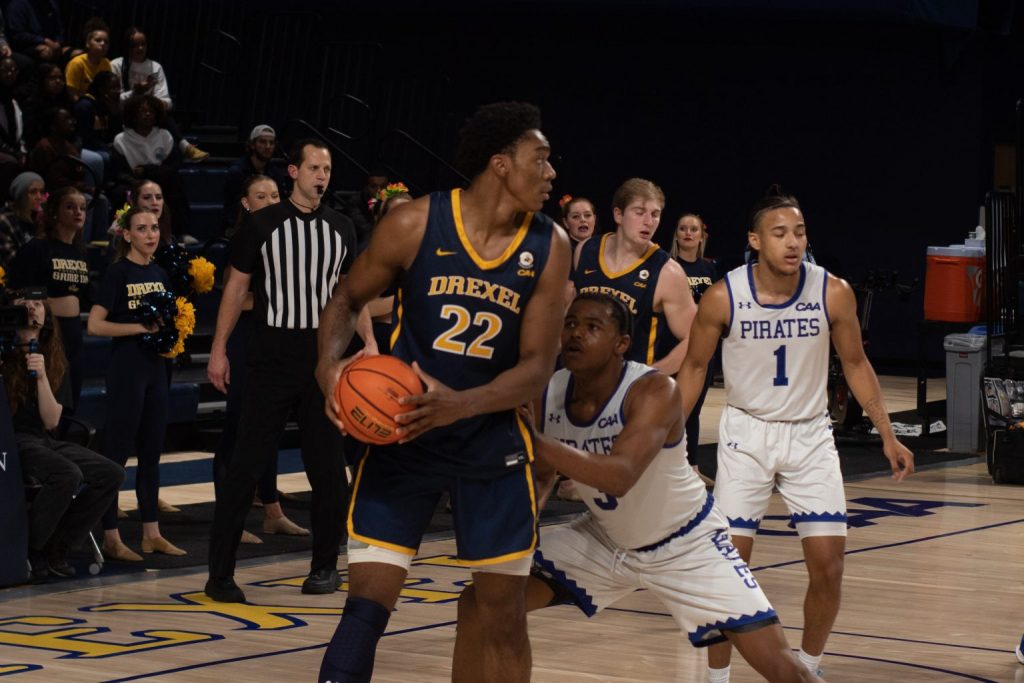 Deciding to attend Drexel is crazy. Students are stuck on campus nearly 365 days of the year, where we are either taking more college credits than nearly any other undergraduate student in the country or sitting in a cubicle from 9-5 at a co-op that pays us far too little for the mental anguish that comes with being a corporate drone while your high school friends are on vacation. Yet we all knew this would be our fate, and we all chose it, and most of us are pretty happy with our decision.
The grueling reality of Drexel is very distant from the traditional college experience, and certainly the traditional college experience for a Division I athlete, as Drexel athletes spend large chunks of their offseasons balancing team workouts and co-ops.
While not our highest ranked sport, basketball is probably the only sport that our campus supports with any regularity. In this vein, I wanted to ask the coaches of the women's and men's basketball teams how they go about recruiting to a school as unique as Drexel.
WBB
When on the recruiting trail, Coach Amy Mallon expressed that the unique nature of Drexel is something that she uses to set her program apart. The valuable experience in tandem with a prestigious education is something that student-athletes crave just as much as the rest of the student body.
"The co-op experience is a unique piece of what Drexel is about, and that is something that we definitely highlight when we are speaking to student athletes about what they are interested in doing and pursuing in the future…The work experience goes so far. And the education here at Drexel, we have over 70 majors here, and in tandem with that work experience it sets students up for success in the future. In Athletics, we support our student athletes. On behalf of women's basketball, in my twentieth year here, we understand that as a program we can be successful in who we are. We don't want to be like other schools, we want to be like Drexel."
In her decades of experience here at Drexel, Mallon has been a part of building one of the most impressive mid-major powerhouses in Women's basketball. The recruiting landscape of college athletics has changed more in the past two years than the past two decades of Mallon's career — most notably, the new ability for student-athletes to profit off of their Name Image and Likeness (NIL). In addition, student-athletes are now able to transfer between schools with no penalty to their athletic eligibility, a combination that allows students to transfer between schools in search of both more playing time and the most profitable NIL opportunity.
"The transfer portal really just hit us hard this past year. With the portal there is the possibility of players both leaving but also the opportunity of gaining through it… For me, [it's about] just trying to stick to the Drexel tradition and the culture that we have built here. Trying to find the same kind of kids, but understanding that we can also find that kid in the transfer portal who fits your culture and what you're about. We have to be aware that at the same time as you are trying to retain players and keep them on the roster, as we have success at our level and we have mid-major players performing at high levels for us, there will be opportunities for them to play somewhere else. We have had it go both ways for us, having a high-level player in Keishana Washington stay at Drexel… but at the same time losing players going to Power Five schools for reasons that we might not even know, whether it be NIL or collective bargaining money. That is something that we are navigating and working on, but you will continue to see those things evolve at Drexel to make sure we continue our strong culture while also not falling behind."
Mallon did point out that NIL is still an evolving phenomena, but she pointed to the University's support system for student-athletes.
"NIL is obviously something that we are all trying to get a handle on. How it impacts our program and our student-athletes as individuals. We technically are not allowed to be involved in our student-athletes NIL deals. People think that schools do all the work and make these deals, but we really are just there to support them. I think we are focused on educating our student-athletes on how to use NIL in a positive way, and be entrepreneurs for themselves."
In this fluid recruiting climate, Coach Mallon spoke glowingly of the newcomers she has brought onto the roster.
"I'm really excited about this group. We have some new faces, but some experienced new faces. We have a grad student transferring in Brooke Mullin from Villanova, she was a key contributor on a team that went to the Sweet 16 in the NCAA Tournament. I think you're gonna see another level out of her that you have not seen out of her the last four years. Then you have another transfer in Amaris Baker who comes to us from Harcum College. She is a Philly native, she has two years of college experience as well as being a three-way scorer. We also have a freshman in Laine McGurk who is a phenomenal athlete, she's definitely one to keep eyes on as a rookie. We also have Clara Bergeron, she's 6'2" who is going to give us some size in the post. We also have a walk-on transfer from DIII Catholic University who is really an adult in the room who is going to help our guards develop so much."
Mallon even credited the reformed transfer portal for her ability to pick up a key player like Amaris Baker, stating:
"I think you are finding a lot of talented and skilled players who maybe out of high school were maybe not quite at the Division I level, and they just learned to develop and grow in the years that they were at a lower level of college basketball. How Amaris transformed from high school to right now you see a lot of growth. A lot of these DII and DIII players are coming into mid-major schools and are some of the best players."
The fresh faces are compliments to the strong rotation she feels already exists on the team, with returning rotation players like Grace O'Neill, Jasmine Valentine, Hetta Saatman and Chloe Hodges.
"We have a lot of the pieces. I think we are going to find a way to do the job this year and I'm excited to see the way we blend out there."
MBB
From Coach Zach Spiker's perspective, co-op has also served as a positive when it comes to bringing in recruits. While it is certainly a grueling undertaking, he noted many athletes have positive experiences on co-op and are drawn to the merits of the program.
Spiker gave a nuanced take on the current dynamic environment of collegiate athletics:
"The landscape of college athletics has changed a great deal in the last 24-36 months. With that said, as the rules of engagement change, as coaches and administrators, we have to be able to adapt to the new opportunities when it comes to engaging and interacting with prospective student-athletes. However, what is not changing is Drexel's academic reputation, Drexel's job placement percentage, the location of Drexel in the best city for college basketball in America. We need to be careful not to overreact. I have great confidence that our administration athletically and university-wide are doing everything they can to find success in this new landscape."
While The Triangle has highlighted the shortcomings of Drexel's NIL infrastructure and the potential ramifications it can have in limiting the athletic program's success, these systemic issues are not evident on the men's basketball roster. The men's program was one of only five teams in Division I basketball to not lose a single player to the transfer portal this offseason. In an environment where 17% of all scholarship players in the CAA entered the transfer portal this off-season, it speaks volumes that a mid-major school like Drexel has retained its players so well. This trend is not a one-off either. Since the transfer rules changed, Drexel has lost just two undergraduate scholarship players to the transfer portal, a staggering statistic in this athletic climate.
"One of the ways to adapt and evolve in this new landscape is to set your players up for success while you have them. First and foremost, it's because of the people here. Our players and our staff. These are the people that we felt would be successful at Drexel, and as time passes we have been proven right. In the last three years, we have only lost a total of two undergraduate players. That speaks to our sustainability. We have a real connection to our players and we have shown how players have improved and grown here. We are known as a program that maximizes talent and develops guys."
While the Dragons were able to prevent any defections this offseason, they managed to bring in two highly regarded players: Horace Simmons, a freshman out of La Salle College High School who is one of the highest-rated recruits in Drexel's history, and Lucas Monroe, a graduate transfer from University of Pennsylvania.
"I'll give you what I've seen with my own eyes. Horace Simmons was one of the best performers in our most recent practice. He impacted the game both defensively and offensively. Lucas Monroe is a veteran, fifth year player. He looks, works, acts and plays like it. He plays with a tremendous pace and force. Defensive players like him can make others better defenders and I've seen that impact."
Spiker also noted the value in being a member of the Big 5 when it comes to recruiting in the city. While that is good to hear, it does not take a fortune teller to see that, in this environment, it will be important that Drexel is able to compete with Villanova and Temple both on and off the court.