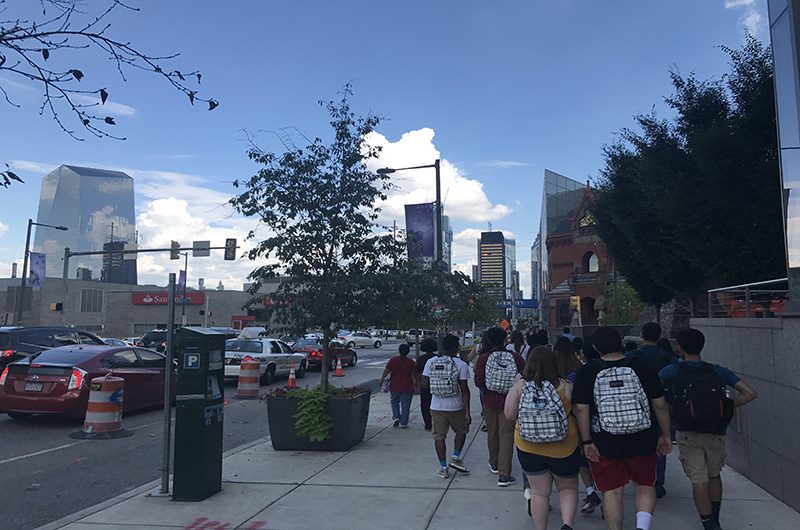 Drexel University partnered with the Advanced Functional Fabrics of America to bring the world of functional fabrics to Philadelphia.
In April of 2016 the U.S. Department of Defense, which backs the AFFOA, gave Drexel $75 million to create a national fabric-oriented research center in the city of Philadelphia.
The new institute will be called the Pennsylvania Fabric Discovery Center. It will be created as part of the Schuylkill Yards development project, which began construction in November.
So, what exactly are functional fabrics? On its website, AFFOA's mission statement states that it hopes to bring about "a manufacturing-based revolution — the transformation of traditional fibers, yarns, and textiles into highly sophisticated integrated and networked devices and systems."
AFFOA's national headquarters in Massachusetts opened in June of this year. It has three separate buildings all near the Massachusetts Institute of Technology, where the research initially began, and they are dedicated to creating fabrics that go beyond simple fashion.
"The real estate on our bodies for fabric is vast. What if we created more function in that real estate and what fabrics do for us rather than simply being a good or commodity," Tosha Hays, AFFOA chief product officer, said.
Drexel, along with others such as the University of Central Florida and Cornell University, are among the first institutions outside of MIT to experiment with functional fabrics.
Many Drexel freshmen may already be in possession of a functional fabric product. As part of the university's annual Welcome Week festivities, 2500 smart backpacks were given out to incoming freshman students for free.
The backpacks utilize AFFOA's technology and are marketed under the JanSport brand. Woven into the design of the backpack is a code that, when scanned by another student, displays information such as their social media profiles.
The backpacks are currently being sold at shop.lookspack.com for $50.
"It's a good backpack. I use it to travel," freshman Josef Soler-Baillo said. "I don't really use it to scan other people's bags, and I don't think people scan mine. But yeah it's sturdy, the material's nice and it doesn't really get dirty too easily."
Soler-Baillo continued to explain that he did upload links to his Snapchat and Instagram to the backpack, but he did not make any notable connections from doing so.
"I think that they're cool, but I think they're kind of creepy," freshman Kamryn Karensky said. "I just wouldn't want someone behind me that I like didn't really know scanning me."
Karensky commented that although the backpack isn't something she uses, she does see fellow classmates using the backpacks, and she thinks that the going price of fifty dollars is a good and fair amount.
In addition to the launch of their smart backpacks, the AFFOA has also created a new technology dubbed "Fabric LiFi," that uses LED lights to transmit data. The company has integrated the technology into hats that also have a speaker in them so that the received data can be broadcast to the wearer of the hat.
"LiFi is not yet a commercial product but is not far from that reality," assured Hays.
In May of this year MIT created a moisture-responsive workout suit. The suit has ventilation flaps that respond to stimuli such as body heat and perspiration. As the user begins to heat up and sweat, the suit will open the flaps to cool the user down.
"As we started to look at smart garments we felt that we should look at them not as containers of technology but perhaps as the device themselves," Genevieve Dion, Drexel professor and director of the Center for Functional Fabrics at Drexel University, said in a 2014 TED Talk.
The first project to come directly from Drexel's Fabric Discovery Center as opposed to MIT's is a functional fabric touch sensor. The "Knit Capacitive Touch Sensor" was created from a collaboration between Drexel's Center for Functional Fabrics and Apex Mills, a New York-based textile manufacturing partner.
According to DrexelNow, "The fabric touch sensor is like a textile version of the touchpad on a smartphone that uses fluctuations in its electric field, called capacitance, to detect position, pressure and movement of touch."
While the Pennsylvania Fabric Discovery Center will not be complete in the near future, that is not halting the research of functional fabrics in Philadelphia. New products are being researched at this very moment, and the previously mentioned products such as the "Fabric LiFi" are set to reach store shelves soon.
More information on functional fabrics and AFFOA can be found on their website, http://go.affoa.org/.