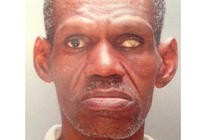 James E. Harris, 58, the man sentenced to life in prison without parole for the 2015 rape and strangulation of 27-year-old Drexel graduate Jasmine Wright, was found unresponsive in his cell at the State Correctional Institution at Graterford April 13 around 10:40 p.m.
According to officials, prison staff attempted to revive the inmate until medical personnel arrived. Harris was later pronounced dead at 11:10 p.m. at Einstein Montgomery Hospital.
Montgomery County First Deputy Coroner Alexander Balacki later ruled Harris's death a suicide, confirming that the prisoner hanged himself.
This suicide occurred roughly two weeks after Harris was found guilty of first-degree murder, rape and other charges March 29, after a nonjury trial surrounding the death of Wright.
Above intel courtesy of philly.com. For more details about the trial and Wright's murder, click here.