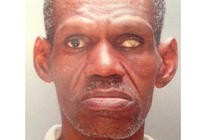 James E. Harris was convicted of first-degree murder and sentenced to life in prison without parole March 30 for the rape and strangulation of 27-year-old Jasmine Wright, a Drexel University graduate.
Harris waived his right to a jury trial in exchange for an agreement with the District Attorney's Office, which vowed, in turn, not to pursue a death sentence if Harris was found guilty of first-degree murder.
Prior to testimony, Harris also rejected a last-minute offer by prosecutors to plead guilty to third-degree murder in exchange for a sentence of 50 to 100 years in prison.
The testimony took place the last week of March before Judge Sandy Bird at the Philadelphia Court of Common Pleas.
During the two-and-a-half days it lasted, Harris denied that he was responsible for Wright's death and contended that he and Wright had been in a consensual relationship. But the evidence told a different story.
One week before Wright's murder on July 15, 2015, Harris, 58, served as a handyman for the small, three-unit apartment building at 226 N. 50th St. where Wright lived.
He was known around the West Philadelphia neighborhood where he worked as Jimmy Camp.
One of those who'd known him was Tanya Giebus, a neighbor who had lived on the same block as Harris for two months. She testified that she had talked with Jimmy daily since moving into the neighborhood and that he'd talked to her about his handyman work for two apartments.
Giebus said that while Harris was normally friendly and talkative, he'd acted out of character when she saw him on the porch of Wright's building the day of the murder. Giebus said she called out his name to say hi, but he was silent.
"He gave me sort of a half-wave and then stepped back behind a pillar," Giebus said.
Harold Murray, the apartment building's property owner, testified that he hired Harris nine months before the killing to fix up the property at a rate of $20 a week.
"He came highly recommended by a neighbor," Murray said.
According to Murray, Harris did "very good work" for nine months. But Harris was terminated the week before the killing because he had stopped working.
Despite being dismissed, Harris held keys to the property where Wright lived. Murray said Harris had promised to return them.
"But before I knew it, this thing happened," Murray said.
Another neighbor, Wanda McCoy, testified that she had seen Harris entering the door leading up to the second- and third-floor apartments the day before Wright's body was found by a Realty World Properties agent — July 16, 2015.
The property management company's agent had received a call from Wright's father that day. He was concerned because he could not get in contact with Wright by phone. When the agent let herself into Wright's apartment, she found Wright's body in the bedroom.
Authorities contended that after McCoy's sighting, Harris entered Wright's apartment where he brutally raped, beat and strangled her. Harris' sperm was identified by DNA analysis inside Wright's genitals, as well as on a towel and pillow in her apartment.
According to Assistant District Attorney Gail Fairman, the Medical Examiner's Office determined Wright's death to be the result of manual strangulation. The report also stated that Wright sustained blunt-force-trauma injuries to 12 parts of her body including her forehead, eye, lips and four hits over the top of her head.
Wright's mother, Paulette Wright, had previously provided the authorities with a statement. She was the last known person to speak with Wright. Paulette said she was talking on the phone with her daughter at 5:29 p.m. July 15 when the line went dead. Although Paulette tried to call back repeatedly, her daughter did not pick up.
Two of Wright's aunts gave statements about Wright's education, interests and character. One said that Wright had just earned her master's in public health, had been politically active and had been planning to study law with the goal of advocating for better public health services.
Harris maintained that he was innocent until his sentencing. He testified that his DNA was found inside of Wright because they had a consensual sexual relationship.
"I miss Jasmine as my friend as much as I miss my mother, who died 43 days before I lost Jasmine," Harris told the judge.
"I know how they feel and I know they want justice, but it's not me," Harris continued, referring to Wright's family.
Public defenders Geoffrey Kilroy, Thurgood M. Matthews and Stephanie Fennell represented Harris. They argued that Harris engaged in consensual sex with Wright and that the timeframe of Wright's murder wasn't clear. They asserted that someone else could have strangled Wright after Giebus' account of him at the apartment building.
Harris' defendants also ascertained that he had sustained multiple traumatic injuries — Harris was twice shot in the head and once shot in the left eye with an arrow as a child. It was also made known that Harris was beaten as a child by his father, James Washington, who had regularly abused Harris' mother. Harris was convicted of voluntary manslaughter in 1982 for murdering his father.
A lawsuit is currently pending against Realty World Properties, Murray and Harris. Wright's parents filed it after her death and contend that Harris did not undergo a background check before he was hired.