I took the Broad Street Line to its southern end Sept. 28 to check out Xfinity Live's Xtoberfest. Around 5,000 people showed up to the sold-out, second annual Oktoberfest celebration and beer festival. The event featured nearly 200 beers from over 100 breweries, including big names like Dogfish Head, Brooklyn and Stone.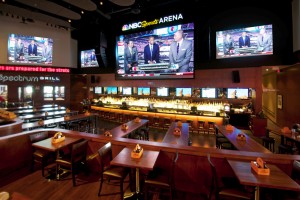 Some of my personal favorites included Bear Republic's Black Racer IPA, a darker take on Bear Republic's excellent Racer 5 IPA. Racer 5 is already delicious, and when added with the complexity of robust malts and even more hops, you've got an excellent dark IPA.
Southampton's Keller Pils is a worthy example of one of my favorite styles. Unknown to me at the time, it turns out that Southampton Publick House is one of the most acclaimed breweries in the country. It ranks in the top 20 for medals won at the Great American Beer Festival in the past 10 years, an acclaimed title for any commercial brewer.
Boaks, a relatively unknown New Jersey brewery, brought forth tasty Belgian-style brews, including a sour beer. In my opinion, it takes guts to serve a sour beer at a festival because the uninformed masses may very likely taste it and think that something went terribly wrong in the fermentation process. Sour beers are definitely an acquired taste, but the offering from Boaks was on point.
Free Will Brewing Co. in nearby Bucks County was among the local breweries at the event. Free Will's Techno IPA was excellent and was served by a brewery employee openly questioning the legality of his happy bumbling through the crowd and pouring pitchers. That's the spirit!
Keep in mind that all of the above beers were tasted in the first two hours. Going to a six-hour beer festival is a lot like running a marathon — except that the day after a marathon you probably feel accomplished and not like your head is stuck in an industrial vise.
It's worth noting that a few breweries sent their own representatives to serve beer, but the majority of the booths were staffed by employees of the event distributor, which was a bit of a disappointment. It's always great to taste a delicious beer in the presence of the person who took part in crafting it, to really share the experience and learn about the beer. Otherwise, what is a beer festival but a glorified outdoor bar? In particular, there was a definite lack of authenticity to the tents serving German beers in the sense that the servers were mostly middle-aged local dudes wearing distributor T-shirts and steel-toed boots unloading kegs from a sketchy rental van parked behind the tent. It was a far cry from what I expect at Oktoberfest: young Bavarian women emerging forth from a silken curtain carrying handfuls of mugs, wearing traditional skirts and hand-knitted socks. Alas, this is South Philly and not South Germany.
All in all, this event could most aptly be described as a craft beer festival masquerading as an Oktoberfest celebration. But I like craft beer festivals, and there were plenty of great breweries serving solid beer. The gorgeous weather, friendly crowds, fun venue and excellent beer made up for the organizational shortcomings to make this a memorable event.