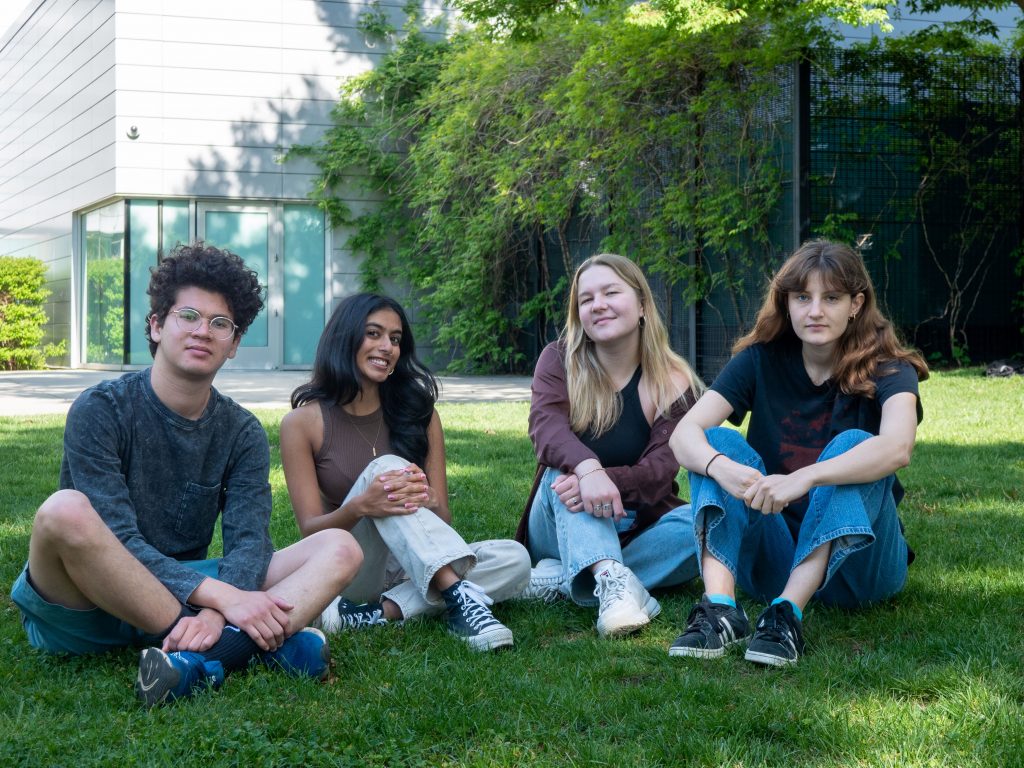 The Triangle was able to sit down with the current board of Flux, Drexel's student-run live music organization, on the morning of May 1. The four lead members discussed their recent history and their new venue in the URBN Annex as well as their upcoming one-day festival Lawn Jawn.
The organization was founded in 2012. Ashlyn Bird (she/her) is Flux's current president, while Pauline Autard (she/her) is the vice-president. Both students are juniors in the Music Industry program's business concentration. Raagavi Venkatesh (she/her), an MIP business sophomore, is Flux's event coordinator. Nathaniel Lemish (he/him), an MIP recording arts and music production concentration senior, is Flux's tech coordinator.
While all four board members study music industry, this is not a requirement to join Flux. The org's previous two presidents, (Zoe Culver and Will Michael,) were both entertainment and arts management (EAM) majors.
Atticus Deeny: Since everyone got sent home from the pandemic, how has Flux recovered? And when did this board… really start?
Ashlyn Bird: Pauline and I remember freshman year remotely, but we weren't super involved…. So we kind of started learning about Flux. And then Raagavi was a member last year (2022). …We were the only people interested in the board last year. So we kind of just got together and picked which positions each of us were going to take on with Zoe as our president.
Nathaniel Lemish: I also remember (my) freshman year (2019)… that was the last year before the pandemic. … They were talking about getting a venue. I don't think it was in the URBN Annex…I think it actually was in this building (Creese Center). They wanted to do it in the lobby next to WKDU. …And then COVID happened, and Flux kind of went completely underground.
From 2012 to 2014, Flux had a venue in the basement of the James E. Marks Intercultural Center, which was relocated to 3225 Arch St. after being replaced by The Study in 2015.
AD: Can you describe Flux's status with Drexel? Are you independently funded? Or do you receive funding from the school?
AB: We are a registered Gold organization. So we're like the highest level of organization for the amount of like, attention that we should be receiving through Drexel. …Drexel has a ranking system for funding, and we're only Rank One. So the maximum amount of Drexel funding that we qualify for is $1,250 a year. …every org can have Student Activity Fee Allocation Committee (SAFAC) funding… But every time we do want to utilize that money, you have to make a purchase request through the Student Organization Resource Center (SORC) as well. …So if we're gonna pay an artist, like contracting them through Drexel so that they can receive payment from Drexel, we can't take money out to hand them a check.
AD: Since your current advisor Ryan Schwabe is leaving his MIP teaching position at Drexel, do you have a new advisor lined up?
Pauline Autard: He is going to be replaced, but we don't have anyone confirmed yet.
AD: How did Flux acquire the venue that you have now inside the URBN Annex?
NL: Last year (2022), that was the first time Lawn Jawn came back (in-person) since the pandemic, and I don't know how or why they got that space (the URBN Annex lobby) instead of using Race Lawn, which is where it used to be. And then the event got rained out halfway through and they instead just moved it all inside… Schwabe was there with (fellow MIP professor) Ryan Moys, and I think the dean of Westphal, and he was like, "Yo, like, let's just make this the venue." So then Moys and Schwabe were in talks with the dean over the summer, and they agreed to give us the space… more or less, they're able to get a set of dates that we could use in that lobby. Like, anywhere from five to six, generally Thursdays, every term.
AD: Do you have more plans for that area of campus… as an organization?
Raagavi Venkatesh: We kind of want to deck it out a bit more ideally… Right now it's basically just a stage and then we have to set up everything else, including putting up lights every time and like, taking them down every time. So I think ideally, next year, we want to have more of like a lighting rig setup, possibly, and get a more permanent fixture sound wise.
NL: This is Flux's first year in that space. …People are not exactly completely on board the idea of Flux using that space, which is completely understandable.
PA: Like Nathaniel said, we're the newest ones there. Like, in no way are we entitled to that space at all…it's really just about communication and sharing that space and all being respectful of one another and finding a way to make things work simultaneously, if that's what needs to happen.
AD: Can you run down the lineup and details for this year's Lawn Jawn festival?
AB: This year's Lawn Jawn will be held on Filbert Street, and it will occur from 1 p.m. to 6 p.m. on Friday, May 19. It will open with a DJ set by DJ Ella, who is an MIP sophomore. And then our Battlefest winner will play as the first live band, Cold Court, they're a freshman band. Then in order through the day it will be Gloss, Fast Car Slow Car, Bleary Eyed and then our headliner Kississippi. We'll also have art vendors similar to what we did last year… We're going to have a few Drexel organizations and Philly music organizations tabling for more info… we're gonna have raffle items, food trucks and lawn games.
AD: You said the stage this year, instead of being in the field, is going to be on the street.
AB: We asked them (Flux members), what we could do to make it better for last year. One of the things that someone said is there just wasn't a lot of space to just hang. Because the lawn was taken up by the stage and tech, and you don't want to sit on the street. It'll be a little bit past the Annex when you're going towards 36th…
AD: You have put on a lot of free shows recently at Drexel in the URBN Annex. I'm also aware that recently, you have been booking shows without offering direct payment to the artists. Can you explain this business model of free concerts, and just how you can do this and get away with not directly paying artists to play for you?
RV: We have a lot of student artists that kind of just want to get their name out there…they're trying to build their fan base, while we're trying to build Flux as an organization. So I think it kind of just works where it's like… we're giving them a platform, and they're giving us their art and their talent.
PA: And just being a student organization working with student bands, it kind of feels like for everyone, it's practice. The bands are able to get on stage and run through a real sound system and use more professional gear than what might be available… And then on our part, coming up with bills and coming up with ways to promote the show. For the tech people, it's a practice of doing soundcheck or working the board, loading and loading out.
Because we're a student organization, we run into the trouble of having to contract our artists through the SORC and through Drexel. That can be a really lengthy process that is not always guaranteed to be done in time unless we started a month or two months in advance. Basically, Drexel wants to make sure that if we're paying people that they are insured, like either through Drexel or through some other company so that Drexel can't be held liable if something happens.
AB: Being able to host free shows for attendees has been really awesome too. We've had a really good underclassmen turnout, like a lot of freshmen. I think that they're more willing to come to a free show on campus to experience live music in Philly than go out and venture out to house shows for their freshman year. …We always try to support artists. They are always welcome to sell their merchandise at shows… we set up a person who will help sell their merch, we put up their Venmo codes, help promote…
AD: If new members are trying to join, what are the main avenues you can take and like what can they pursue through Flux?
AB: The different avenues they could pursue are artist relations, booking, tech, venue operations, marketing, social media, graphic design, videography and photography. One of the best places to find us is our Instagram (@drexelflux). We post pretty much everything that we're hosting on there. At the beginning of next year, we'll definitely be posting about our start-of-the-year GBMs and how you can join the conversation. …If you're a student musician and you want to get involved, come to the meetings and talk to us.
NL: Most importantly, come to Lawn Jawn. Come to the show, see what it's all about.
Drexel's student-run organizations continue to recover from the initial COVID-19 lockdown in 2020, and groups like Flux begin to reform their infrastructure and resources. With this comes a multitude of chances for students to take on leadership roles in orgs that will result in real-world experience within their field of study or interest.
Whether you are interested in the live music industry or not, Flux's on-campus concerts and Lawn Jawn festival are great opportunities for students to support their peers and enjoy free entertainment. To browse the student organizations that Drexel offers, visit drexel.campuslabs.com/engage/.