The second building of the new URBN Center, the URBN Annex, has just been completed and is ready for use. The Annex is located at 3401 Filbert St. and is home to the newly expanded Leonard Pearlstein Gallery.
"With the completion of the URBN Annex, the University can now boast of three beautiful exhibition and performance spaces that will serve the entire Drexel and University City communities," Allen Sabinson, dean of the Antoinette Westphal College of Media Arts & Design, said.
The Annex contains a 150-seat theater named "The Black Box." It also houses a 2,489-square-foot playing area and numerous other support rooms such as new classrooms, a state-of-the-art control booth, dressing rooms and green rooms. The Annex also contains a 123-seat screening room with brand-new cinematic projection and total surround sound.
Samantha Wend, a sophomore studying entertainment and arts management in Westphal, is excited for the new space because of the possibilities it offers for students involved in theater. She's an active member of the Drexel Players, the only student theater organization on campus.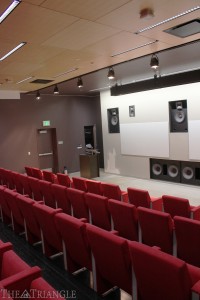 "First, it's really exciting because we constantly have trouble allocating space in Mandell because the dance students use it, the theater students use it, various musical ensembles use it, and outside rental companies use it. It's consistently difficult to have space for rehearsals, performances and theater classes. So the annex space gives us more room to rehearse and host those classes," Wend said.
She continued to explain the value of the black box and how it will allow for more creative interaction between the actors and audience during productions.
"In terms of an actual performance space, having the black box gives us the opportunity to set up the stage in much more creative, unique ways. We can do productions in intentionally intimate setups instead of the traditional setup that Mandell has," Wend said.
The new and improved Leonard Pearlstein Gallery also has much to boast. At 4,121 square feet, the Gallery's space is five times the size of the previous Pearlstein Gallery in Nesbitt Hall. It contains museum-quality lighting systems and reconfigurable gallery space to fit every artistic need. Acclaimed feminist artist Wangechi Mutu will inaugurate the new space Feb. 22. Students and faculty are invited to attend.
"The new Pearlstein Gallery, the black box theater and the state-of-the-art screening room give us the facilities to present world-class visual and performing arts and to provide outstanding teaching spaces for our students, both absolute necessities as Drexel continues its rise as a top national and international university," Sabinson said.
The entire URBN Center was designed by Robert Venturi and is set to become the new home for the Westphal College. There will be a launch party April 12 titled The URBN ReNEWal celebration. Guests will have a chance to tour the buildings, meet with faculty and see student work on display. Anyone interested in receiving a formal invitation can send his or her name and address to Karine Manillier at [email protected]