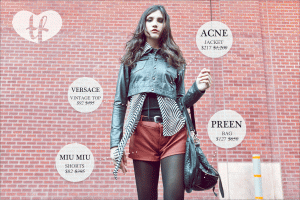 Wish you could easily earn money by selling your gently loved clothing and accessories? Don't feel like taking photos of clothes yourself and uploading them to, say, an eBay account? Threadflip, a revolutionary website and mobile application, is changing the way people can resell clothes.
Combining a website and app, users have the option to shop either at home or on the go. Fashion insiders and style lovers alike have grown accustomed to viewing trendy outfits on apps such as Instagram, Pose and Trendabl, but now they can grow accustomed to buying and selling those looks as well.
Users can take photos of sellable goods, upload the images to their accounts, and earn money on the Threadflip website when other users purchase those goods. Think eBay, but strictly for women's fashions with an integrated account service like PayPal. After downloading the Threadflip app, users can start uploading their clothing items and labeling those items by brand and price.
Users who want to sell high-end goods such as a Louis Vuitton bag or a Chanel cuff can use what Threadflip calls its "White Glove Service." Sellers request a special bag from Threadflip, pack luxury goods and ship them to Threadflip. Threadflip handles taking the pictures and uploading them to users' accounts. Once money from sales comes in, users can either buy other hot items on the Threadflip website or get a good old-fashioned check.
When asked whether a men's division will be added to Threadflip, Emily Rose Patz, White Glove Service account executive, said, "No plans for the near future just yet, but we've actually gotten that question quite a few times, so I would not be surprised if Threadflip added a men's category down the road. It would be awesome for guys to be able to join in on the fun!" For now, guys can purchase items on the site for their lady friends.
The user-friendly service came about in 2011 after founder Manik Singh had an interesting thought while speaking to his wife: Mrs. Singh wanted to sell a pair of boots that she never wore, but she was reluctant to part with such a high-quality item. Singh thought that there must be a way for women to part with unwanted clothes without feeling guilty. He thought of a program that would allow women to sell items to respectable fashion community members, and thus Threadflip was created.