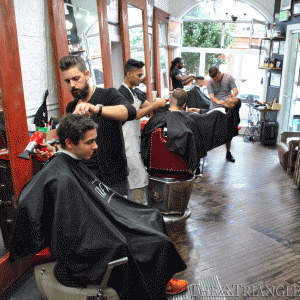 A creative genius is impossible to stop. One of the most respected hair stylists known today, Marcus Williams, was raised from the most unlikely of places: the suburbs of Delaware County. Since he was a teenager, he has had an uncanny passion for cutting hair. At the early age of 14, his siblings and relatives recognized his natural talent and began to allow him to cut their hair. Soon after, through word of mouth, his customer base expanded to his high school friends and his hobby bloomed into a full-fledged dream for a career in hair styling.
Though his drive was evident, Williams noted that the suburban environment hindered the nurturing of his creativity.
"It's slow in the county," Williams said. "People simply don't care about how they look or how they dress. I wanted to be surrounded by people like me and I knew the city is where I needed to be."
After enrolling in cosmetology school in 11th grade, Williams received his degree and moved to Philadelphia, where the culture was more vibrant, more expressive and most importantly, more attentive to style. After the opening of his namesake store in November 2013, Styles Inspired By Marc has taken over its block at a riveting pace and has already established a reputation for being the best in the business.
Enormous 10-feet-tall standing mirrors, old-fashioned hardwood flooring and vintage barber chairs from the '70s — these carefully selected accents combine beautifully to create an unbelievable interior.
"I wanted my shop to be an incredibly decorated place that just happened to have barber shears," Williams said. Not only is he choosy about the design, he is also highly selective of his staff. While most aspiring hires are judged by talent first, Williams emphasizes the importance of personality and puts his potential co-workers through an extensive interview to ensure customers can trust and befriend them easily. Though fine-tuning skills is important, in order to have regular clients Williams said, "A friendship between barber and client has to be established first."
Above all, Williams is particular about the quality and attention given to each customer. As there's a common creative edge seen in every hair stylist, they each encourage their clients to try something new. Often times, the hair cutter can gauge whether or not the client is fashion forward or not and will suggest trendy haircuts from a style magazine.
Styles Inspired By Marc is pushing the envelope and is dressing up the West Philadelphia area with the freshest haircuts. Though the price point is higher than most barber shops, Williams assures that the price is a steal considering his skill level and that of his staff. But if that and the top-of-the-line products and clippers aren't convincing enough, students can get a 10-dollar discount every Monday, Tuesday and Wednesday.
Walk-ins are permitted, but it is highly recommended that you make an appointment beforehand. The busy store is representative of the hard work and masterful technical skills in each hair stylist. "When you build something respectable, people will find you," Williams said. In a short span of time, Williams has built an illustrious empire and has held prominence over his competitors for giving the highest quality haircuts. Regardless of your taste in fashion and hair styling, Williams assures that you'll leave his shop satisfied, impressed and in love with your new look.
Looking into the future, his vision is not limited to the neighborhoods of Philadelphia. Already, Williams' talent has taken him to distant places as far as Jamaica and Los Angeles where he holds educational classes for hair styling. Styles Inspired By Marc is just the first step of Williams' dream and creative imagination. In the future, Williams hopes to open a barber shop in the United Kingdom.