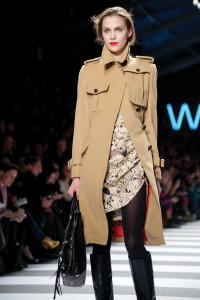 Dig out those chunky cardigans, dark oxblood lipsticks and every dramatic piece that you've had to think twice about wearing in July. The leaves are changing color, and we're about to upgrade your summer wardrobe.
First, let's talk about layering. We all know that once the temperature dips below 70 degrees, we run to our closets for whatever extra layer we have, whether it is a scarf, a flannel, a leather jacket, or anything warm and cozy. You'll be able to incorporate that go-to piece with any summer clothes that are too light to wear without it. Throw it over your shirt, tie it around your waist, or layer it under your blouse. Feel free to make it your own and you'll be golden.
Pattern mixing is super chic when you convince yourself that you know exactly what you're doing, because of course you do, you're fabulous. Summer floral prints look impeccable with a comfortable top layer such as a denim jacket, a military coat or a heavy knit cardigan. Bright summer pieces can be edgy with the addition of a leather jacket or pair of boots. Fortunately, there's plenty of overlap with summer colors and fall's jewel tones, such as royal purple, sapphire, emerald green, mustard yellow and fiery red. I find it helpful wear two accessories in the same fall color together, such as my orange shoes and belt, or my amethyst scarf and lipstick.
Throwing in an unexpected pop of summer to a warm outfit is always chic. Try trading out just one piece for something quintessentially summer. Opt for a skirt without tights, a brightly colored blouse, or your comfy gladiators or slip-on shoes. With a toasty jacket on top, you'll be warm enough for the change of season but light enough to enjoy the crisp fall air.
Another great way to transition your wardrobe for the fall include wearing a pair of tights. Adding an extra layer of interest (and warmth) can pull together an otherwise mismatched-looking summer outfit seamlessly. Try some patterned or jewel toned tights to mix it up.
Fortunately, throwing on a sweater without further thought is now perfectly acceptable. Match it with a pair of jeans, a skirt and tights, or draped over a dress. A jewel toned necklace livens up a simple sweater, or simply add a scarf if you're feeling extra cuddly. Oxblood and berry colored lipsticks or stains are great anytime during the colder months.
Ultimately, fall transition is about wearing whatever keeps you cozy while maintaining the simple elegance of the season. Have no fear for the impending winter. All you'll need is a nice heavy jacket to throw over your ensemble, but we'll deal with that once it gets here. As for now, enjoy your pumpkin spice latte!