Urban Outfitters wrapped up its College Marketplace event at its store on The University of Pennsylvania's campus Oct. 24. Throughout the month of October, Urban Outfitters welcomed local students at 10 different campus store locations to showcase their work to the community. This event gave them an opportunity to set up their own pop-up shops in the store.
College Marketplace was created to support and promote young artists, entrepreneurs and branches from the Dreamers and Doers series on the Urban Outfitters blog. Dreamers and Doers is a portion of the U.O. blog crafted to spotlight those doing something noteworthy. The series consists of interviews and stories about young models, designers and innovators who are starting something new and creative. One of the participants from College Marketplace will be selected to have their items sold in one of Urban Outfitters' storefronts. U.O. has also given the opportunity to some of those who have been featured on the Dreamers and Doers blog to sell their items on the retailer's website. The idea behind creating Dreamers and Doers, as stated on its website, is to "stand behind those taking steps towards something new."
During the event, artists were able to display their collection on tables that had been set up at the front of the store. As shoppers walked in, their attention was quickly drawn to these stands. Interested customers had the opportunity to talk to the artists, learn about their brands and purchase their designs. The items included clothing, glassware and a variety of accessories. Among the four labels selected to show their work at the event, three were founded or co-founded by Drexel students.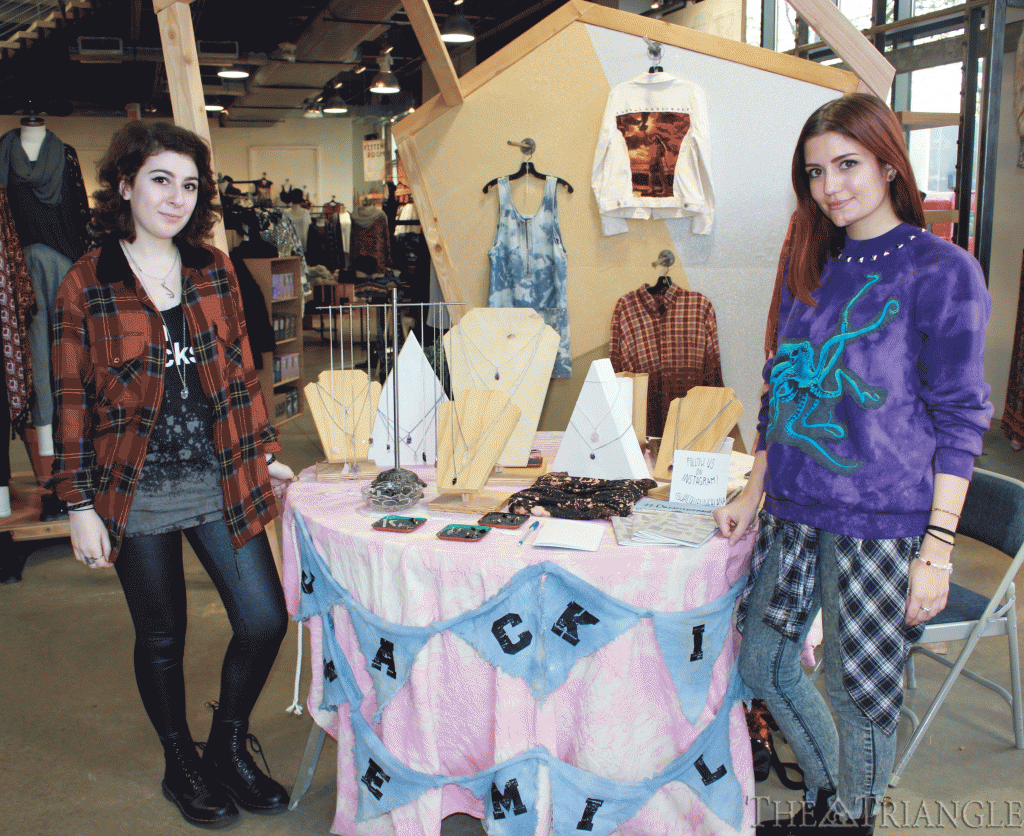 Jacqueline Vasconcellos, a junior design and merchandising major, along with her co-creator Emily Schnall (from the Rhode Island School of Design), was one of the Drexel students chosen to show her work. Their collections included crystal pendants and earrings as well as upcycled vintage clothing pieces. "We get inspired by time specific pockets of pop culture, like '80s punk or '90s grunge," Emily said when describing the vibe of the collection.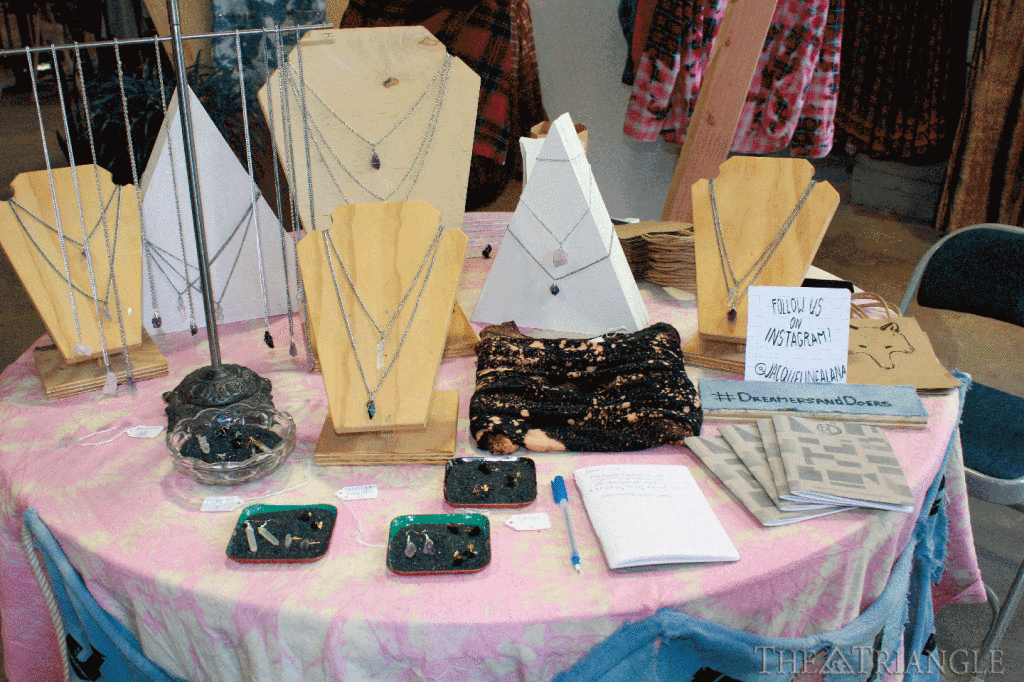 Senior graphic design and merchandising major Julie Parlade was also displaying her brand, Daphne. The collection consists of an array of handmade jewelry with influences drawn from the story of Daphne in Greek mythology, astronomy, alchemy and mythical legends. When asked why events such as College Marketplace are so important to young artists, Julie replied, "This is an amazing opportunity for [public relations]. I couldn't get my brand out there as well without chances like this."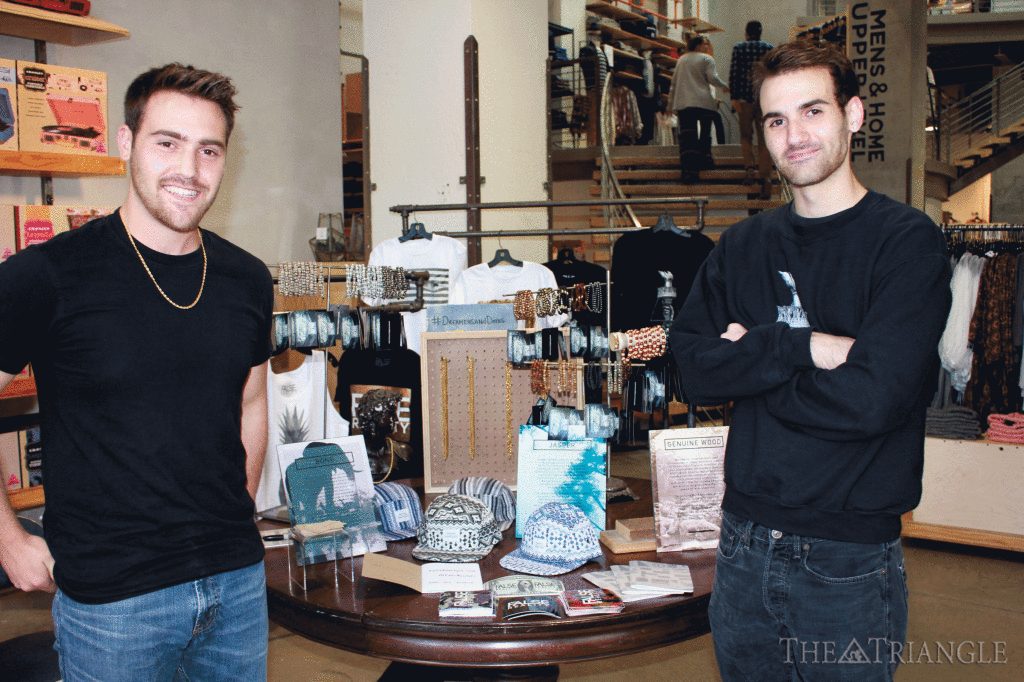 Nicholas Kramer, a junior graphic design major, was there to represent False Reality, a brand he is co-founded. Pieces shown included bracelets made from various materials, such as bone from Indonesia, wood from South America and jasper from India. "We made it our mission to make a unique collection with materials from all over the world. We're trying to tell stories from other countries and cultures through our designs," Nicholas said about of the brand.
Events like Urban Outfitter's College Marketplace give the local community a chance to purchase items from young artists as well as learn more about the artists themselves and their brands. It creates great exposure for these young designers as well as valuable opportunities to interact face to face with their customers. Anyone who is starting a label knows how difficult it is to get the name out there, and having well known companies like Urban Outfitters support striving artists can make a big difference in their journeys. Be sure to support and check out these talented students!
Jacqueline- Instagram: jacquelinealana
Julie- xxdaphnexx.etsy.com
Nicholas- falserealityco.com