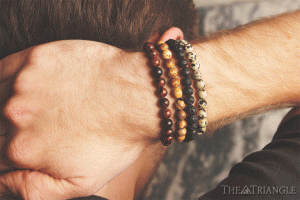 "Everybody has their own story, their own reality."
These words are the foundation of False Reality Clothing Co., created by Drexel's own Nick Kramer and his brother, Nathaniel Kramer of Rutgers University. Nick Kramer, a pre-junior graphic design student, decided to start a menswear fashion line to showcase a range of high-quality T-shirts, hats and accessories.
"We really felt that there was — and still is — a disconnect, with brands putting out poorly designed and low-quality products. So, False Reality is essentially our take on what we think good design and high-quality products should be," Nick Kramer said.
False Reality takes high-quality production to a new level through individuality; for example, bracelet stones are sourced from world-class mines in India, and items feature one-of-a-kind patterns.
According to Nick Kramer, "Each article of clothing has its own origins and stories to tell. After our products are purchased and shipped out, it is up to our customers to add their own story to it."
False Reality is currently developing a new line of accessories targeting men ages 18 to 30. However, it may expand into accessories intended for fashion-forward women as well.
When considering the future of the False Reality brand, Nick Kramer explained, "I would love to possibly host a False Reality event in Europe. We've had a lot of customers from the United Kingdom, and it would be cool to do something to show them love back. Also, we hope to release more limited-edition items soon."
With Drexel's frenetic pace, it can be hard to imagine how a student is able to manage both full-time schoolwork and a clothing brand.
"I really just take one thing at a time and focus on getting things done in small pieces in order to accomplish larger tasks," Nick Kramer revealed.
In giving advice to aspiring Drexel entrepreneurs, he said, "Persistence and hard work beat talent any day."


Nick and Nate Kramer, through the creation of False Reality, provide high-quality, unique and independent clothing to the world, and their company can inspire Drexel students to simply create their "own reality."
On Aug. 16 and 17, Architeqt Salon and Gallery will host a pop-up shop event for False Reality at 265 S. 10th St., in Center City. The event will feature free food, great music and a chance to win some cool prizes throughout the weekend. Attendees will also receive a 50 percent discount on all apparel and a 25 percent discount on headwear. False Reality will showcase never-before-seen accessories available for purchase during the event as well.
Follow False Reality on Twitter (@falserealityco) for the latest updates on product releases and upcoming events!