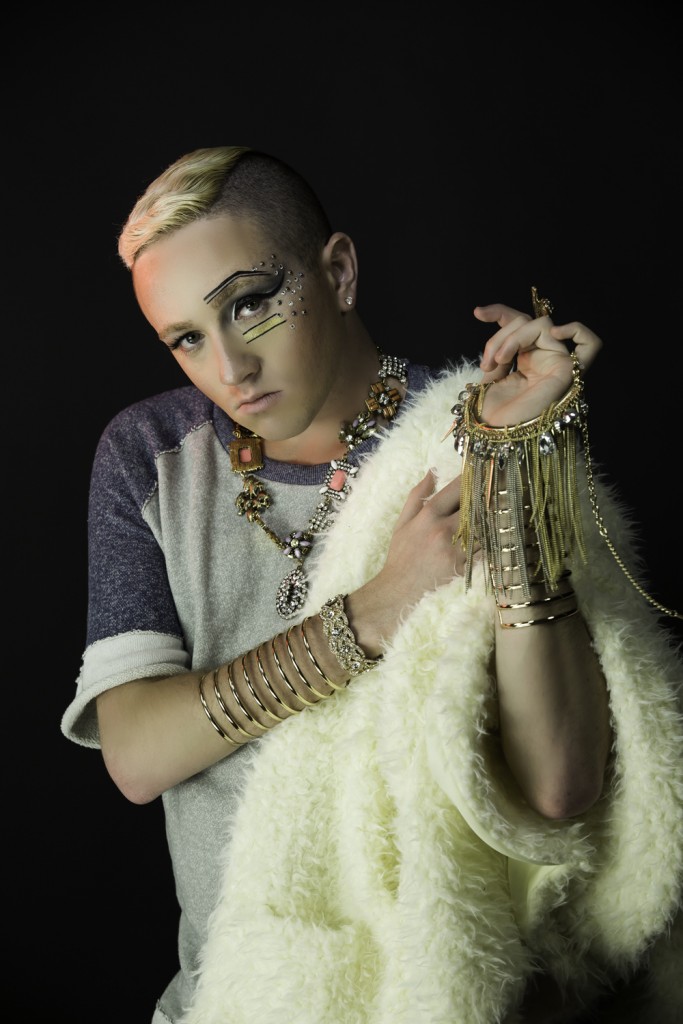 Jared Gelman, a senior music industry major, is an aspiring singer, songwriter and dancer. Gelman released his latest music video, "Broken," Sept. 17, which has reached over 23,000 views on YouTube. In addition to his musical talents, Gelman also has a great sense of personal style. We spoke with him on his style inspiration, favorite stores and his passion for music.
Gelman describes his personal style as "trash glamour, because I try to take elements that aren't generally considered to be fashionable, and I like to wear them in a fashionable way." Gelman is a huge fan of juxtapositions when it comes to mixing his clothing and accessories such as mixing black and white pieces, and contrasting feminine and masculine pieces. "If it's more feminine, I'll add something masculine to it like a stud or a spike, [or] something grungy. I want to feel like I'm a walking art," he said.
The 22-year-old finds his style inspiration from both avant-garde fashion designers and fashion films shot by Nick Knight. Gelman also expresses his adoration for Lady Gaga, brands such as Hood by Air as well as Moschino and Club Kids in New York City.
As for three items in his closet that he can never leave without, Gelman rolls his sleeve up to unveil his Gucci bracelet that his grandparents got for him. "It's kind of cute and chic!" Gelman said. He also always tries to include an element of leather in his outfit. Last but not least, Gelman loves his eyewear. "The bigger the better! My good friend Stevie Boi makes sunglasses, and they're really bedazzled." he said.
Some of Gelman's favorite designers include Shayne Oliver from Hood by Air and Nicola Formichetti. Gelman expressed his admiration for Oliver's collection: "I really love that he took the underground LGBT world, and he put it significantly in streetwear. I love [it] when LGBT seeks its way into the mainstream."
You can often find Gelman at his favorite store in Philadelphia, Rittenhouse Square's NINObrand, run by his good friend Bela Shehu. Shehu recently styled Gelman for his music video "Broken." Gelman appreciates the brand because they have a "huge accent on silhouettes, and [Shehu] uses a lot of origami folds to make the silhouettes. There's [also] a lot of gender mixing like boys in long kilts and girls in more masculine suits."
Besides his fashionable sense of style, Gelman is also on the path to a promising music career. Just two years ago, Gelman began his journey as a singer and started taking voice lessons regularly. "I focus much more on melody than speaking lyrics now," Gelman said. When he first started singing, Gelman's sound was "a hybrid genre of electronic music and pop music, but it ended up sounding much more avant-garde electronic music." Today, Gelman describes his music as synthpop.
Gelman's latest single "Broken" is the perfect balance between his old and new sound. "I ended up linking with a producer at Drexel, and we sat at a piano for like two hours, and I started writing. I knew I had a story to tell," said Gelman on the song's development. He also worked with Suni Silvan, a Philadelphia-based photographer on the music video. "It was such magic on set. The video ended up becoming beyond what I wanted it to be," Gelman said. The music video premiered on Galore magazine's website. The night after the video's release, Gelman remembers waking up to hundreds of Facebook notifications.
In the near future, Gelman plans to release two EPs with all the songs he's worked on over the years.
As for plans after graduation, Gelman said, "let's just say right now, everything is falling into place perfectly, and if I can continue to stay creative and spread my message on a bigger platform, then I'll consider myself a success."