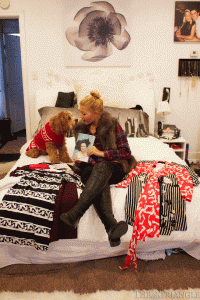 On Nov. 2, the E! Network premiered their new reality competition series, House of DVF, where eight young hopeful contestants were brought to New York City to compete for the coveted position as Diane von Furstenberg's Global Brand Ambassador. Among these hopefuls was Drexel's very own, Amanda Schauer.
Amanda Schauer is a senior majoring in design and merchandising. Over her three co-ops, Amanda has completed internships at Michael Kors, Nanette Lepore and Lilly Pulitzer. She is a member of the Phi Mu sorority, where one of her sisters informed her about the opportunity to work for one of the fashion industry's most established and influential designers, Diane von Furstenberg. Furstenberg is the president of the Council of Fashion Designers of America, creator of the iconic wrap dress and a former princess. The opportunity to become a part of the DVF team is a once in a lifetime chance that most people can only dream of.
While on the reality television series, the contestants showcased their abilities throughout the show by arranging photo shoots, designing apparel for DVF and styling celebrities and models for high profile events.
During the competition, Amanda was a strong contestant, as she was able to make it all the way to the finale where she worked backstage to help organize DVF's New York Fashion Week show. We caught up with the talented runner-up and got all the details of her one-in-a-million opportunity.
The Triangle: What was the most significant thing you learned during the show?
Amanda Schauer: Definitely to always be confident in yourself and your opinions. Throughout this show, I really had to stand up for myself and my opinions and a lot of times I would be intimidated by the other girls and hold them in. I learned that whatever it is you want to say, just speak up and say it with confidence.
TT: What was it like getting to work so closely with Diane and her team?
AS: It wasn't just Diane that was so amazing to work with; it was her entire team as well. They're all just so knowledgeable and so smart. Diane can understand people so quickly and working with her was so eye-opening. She just gets people and can give you the greatest advice within five minutes of talking to you. It was amazing, there's really no other word to describe it.
TT: What was it like to be in such a competitive environment?
AS: That was the most stressful part of the show. The producers would make you talk about what's on your mind and what's bothering you, whereas I would normally just bite my tongue. I wanted to be friends with the girls, but we were in such a competitive environment so it was hard not to get a little feisty with each other.
TT: There were a few tense moments. When some of the girls, like Brittany and Kier, tried attacking you and questioned your abilities, how did you remain so graceful?
AS: I just reminded myself that [they] are not the ones who are deciding my future and I don't have anything to prove to them. I'm not very confrontational so [I knew] I wasn't going to get into it with those girls. I know how they perceive me doesn't really matter because they're not making the decision at the end of the day.
TT: How did you feel about having cameras follow you around all the time?
AS: It was definitely hard to get used to but after a while I got to know the crew and it became less about the cameras watching me as opposed to the crew. I was more comfortable with that because I knew them and we all became friends. Sometimes when I would go to bed at night I would fix my posture because I couldn't get out of the mindset that I was being watched
TT: After you finished the competition, did you see any changes in yourself or your views?
AS: This competition made me see that experience is great but having a positive attitude and good personality will take you farther. That's a trait I'm proud of and want to make sure I always carry in the corporate world.
TT: What advice would you give to other students pursuing a career in the fashion industry
AS: Take any opportunity you are given because it can't hurt, it will only help. I was so terrified to go on a reality show because I could embarrass myself and at the end of the day, I'm so happy I did it and I would never take it back.
Editor's Note: Amanda is finishing up her senior year and will graduate in June. After graduating, she plans on heading to New York to establish her career in the fashion industry. With the help of the DVF team, who have been more than willing to assist her, Amanda hopes to find a great job and continue to grow and learn from her experiences.