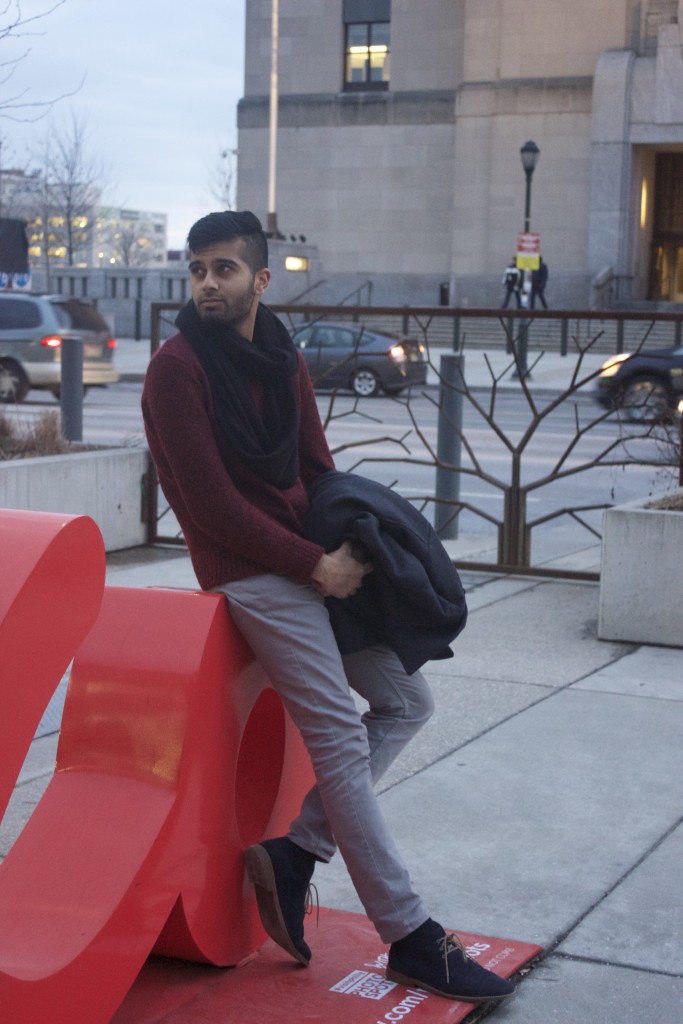 Malak Shah, sophomore biology major.
Wearing H&M sweater and scarf, Calvin Klein jeans, Michael Kors wool coat and Clarks suede oxfords.
The Triangle: Who is your style inspiration?
Malak Shah: My style inspiration is not one person in specific. I like taking bits and pieces of what people wear every day and creating a youthful yet sophisticated look.
TT: Would you say that living in the city has had an influence on your fashion sense?
MS: Going to school in Philadelphia has had the most influence on my style. Students at Drexel especially must be resourceful with their wardrobe. This is an ideal that I like to emulate, as I love a professional appearance that can quickly be transformed into a street look appropriate for the city after hours.
TT: What's your typical go to outfit for a night out and nice dinner?
MS: My typical go to outfit for a night out and nice dinner would definitely include classic pants with a comfortable sweater accessorized with sleek outerwear and a fun pair of shoes, be it boots or even Timbs.
TT: How do you stay warm and fashionable during the winter season?
MS: Staying warm during the winter is definitely about layers that work together. One of my favorite pieces of clothing to throw on top of an outfit is a cozy scarf that can accent any look. Keep it simple for business with a plaid or a solid infinity scarf and playful for the evening by introducing a pop of color.
TT: What styles are you looking forward to in the spring?
MS: I am looking forward to the movement towards more eye-catching colors, like pastels, being incorporated into shorts and fabrics that are more airy. Spring weather is always unpredictable because temperatures are more reminiscent of fall at night, which allows me to tap back into my winter wear!
TT: What brands do you regularly shop?
MS: Brands that I regularly shop at include H&M. This is a great, trendy store where you can find any separate to incorporate into a completed outfit at an affordable, college-friendly rate. On the other hand, browsing high end stores like Louis Vuitton is always a thrill. Even though I never walk out with anything, it's amazing to try on the latest suit styles that the 1 percent has access to.
TT: What are some of your essential articles of clothing?
MS: Although this may not be considered an article of clothing, hair gel is a must-have accessory for me, in addition to a tightly cut beard and neat goatee.
TT: What is one must have article of clothing you want in your closet next?
MS: One article of clothing I'd love to have next is, not surprisingly, a high-end suit. The fitting of these suits is impeccable and can make any body type look tapered and sophisticated.