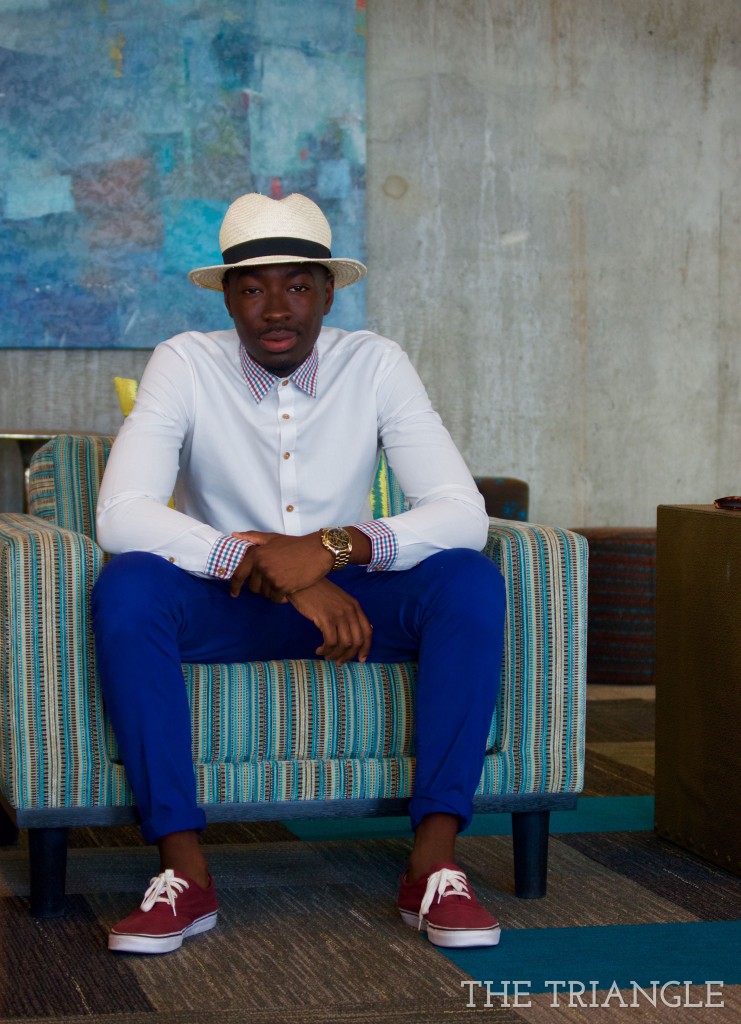 Josh Boate, pre-junior, sports management and finance major  
Wearing: ALLSAINTS white button down shirt, H&M blue pants and red shoes, Asos straw fedora hat and Michael Kors gold watch.
The Triangle: How old were you when you developed your personal style?
Josh Boate: 18-years-old.
TT: You always dress so sharp on campus. Where do you get your style inspiration from?
JB: I grew up in London, which had a huge influence on my style. People actually dress nice and take pride in their appearance. The way you look can say a lot about you. I like to dress well because it makes me feel good and I also see it as a form of good manners.
TT: How would you describe your personal style?
JB: European-refined. I like mixing dressy clothing with casual clothing. Fedoras are always a staple piece. I also like to wear vibrant colors and outfits with high color contrasts.
TT: What are three things in your closet that you could never get rid of?
JB: Michael Kors watch, Givenchy shoes and Stussy leather hat.
TT: What's the one trend for this summer you're most excited about?
JB: Camouflage army green clothes. It's normally a fall trend but it's a different look for the summer.
TT: Name your top three favorite bands.
JB: Topman, Zara and Ralph Lauren.
TT: What are your summer's must haves?
JB: Short-sleeved shirts, tank tops and shorts.
TT: What is one thing you can't leave the house without?
JB: If you ever see me out without a watch on, something is wrong with me.
TT: What fashion advice would you give?
JB: Guys, when you wear a fly outfit wear it like every woman wants you and every man wants to be you. People should try to look their best at all times because image is everything. You'll never know who you might run into on a normal day — a future employer or an ex-girlfriend or boyfriend. If you're looking your best, you can never really go wrong.