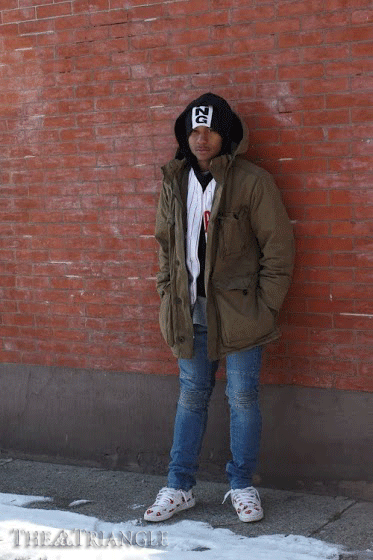 Isaac Singleton, freshman, business major
Wearing an Alexander Wang H&M collaboration hat, Zara jeans, French Connection jacket, Majestic jersey, Alexander Wang hoodie, Urban Outfitters sweater, and Comme des Garcons shoes.
The Triangle: What is your favorite winter piece?
Isaac Singleton: My favorite winter piece this season has been Chelsea boots. I also like changing up my jackets.
TT: What is your favorite store to shop at?
IS: There is no real favorite, but I like shopping at Zara, Barney's co-op and Nordstrom Rack for nicer clothing at cheaper prices. I like H&M and Urban Outfitters sometimes, but a lot of people buy the same clothing from there.
TT: Who is your biggest style inspiration?
IS: Kanye West for a more professional style, and ASAP Rocky for more casual street wear; also Scott Disick. I like looking on Tumblr for inspiration because people are creative and wear what they enjoy wearing rather than trying to copy everyone else.
TT: What are you looking forward to most in spring fashion?
IS: I am looking forward to being able to wear sneakers and bright colors. I also miss wearing shorts.
TT: How old were you when you first started developing your own style?
IS: My entire life, I have been developing my style. I have always liked dressing differently than the people around me. When I turned 16, I started to not care about what others were wearing and focused on my own style.