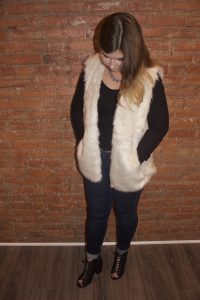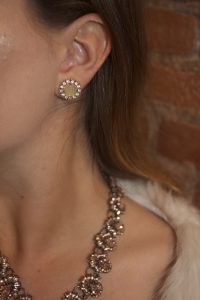 Ellie Belcheff, Marketing & Psychology, Junior
The Triangle Style Editor
Wearing: Old Navy Faux Fur Vest, H&M Black scoop neck long sleeve top, Gap 1969 Jeans, Urban Outfitters heeled boots, Baublebar necklace, Kate Spade earrings
The Triangle: Tell me about today's outfit.
Ellie Belcheff: Well since we've finally been having fall weather I'm embracing it as much as I can before it's gone. I wanted to be really comfortable but look put together, and I feel like this look achieves that. I also love this furry vest I just picked up from Old Navy, and not just because it has pockets. I wanted in after seeing a blogger I follow do a haul and she bought so many cute fall pieces there. I picked up a few other vests, some sweaters and an off the shoulder top.
TT: What's your favorite part of being the Style Editor?
EB: Fashion has been something I've always been in love with. I tried culinary arts and explored a few other options but at the end of the day it'll always be fashion. I also really enjoy writing so i get to combine two things I really like doing. My favorite part of being an editor is seeing all the articles come together to make one cohesive spread. There's just something about being able to pick up a copy of the paper, flip to the style section and be able to say "I did that" that's just really gratifying.
TT: Can you describe your style?
EB: My style can be all over the place but the best words that come to mind are feminine, modern and understated. I really don't own many bright colors, I lean more towards forest greens, maroon, blues or pastel tones. Due to my lack of love for color, my closet is heavily populated by chic black tops and some whites. On a day-to-day basis when I'm just going to class or running errands, I'll throw on leggings, my black Nike's and a casual top. I feel like my style is always changing, and some days I feel more daring than others. Style is something you continue to develop throughout life as you are exposed to and influenced by new experiences and I think that's great because it gives you an opportunity to be a style chameleon.
TT: What are three pieces essential to your closet?
EB: Black ankle booties, a leather jacket and small shoulder bag you can fit your essentials in
TT: What are your favorite places to shop?
EB: If I have some money to spend I love ASOS, Urban Outfitters and Nasty Gal. When I have to work with a tighter budget I turn to H&M or Primark!
TT: Do you have a style icon?
EB: I really love how Kendall Jenner dresses, she always looks very elegant and sometimes her outfit is so casual. She just pulls off that effortlessly chic look perfectly. I think Rihanna's edgy looks are amazing and it's great how she can go to super femme to sassy. Rachel Zoe has always been a style icon for me. She can appreciate an all black ensemble as well as something eye catching and glitzy.
TT: Is there any style advice you'd like to share?
EB: Definitely don't be afraid to take risks. If you execute an outfit that may seem out of your comfort zone properly, the payoff is totally worth it. Don't be afraid to try things out, and always try things on. There have been pieces I was iffy about on the rack and then loved how they looked on. There has also been times where it looks great on the rack but terrible on. It's all give and take and it's important to keep exploring and developing your style and individuality.