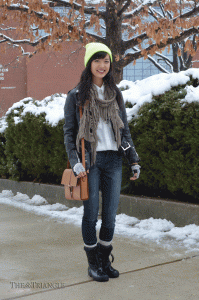 Erin Chan, junior, graphic design
Beanie, button-up shirt, purse — Forever 21; faux leather jacket — H&M; jeans — Urban Outfitters; snow boots — Kohl's; scarf and gloves — gifts; necklace — borrowed
Q: From where do you draw your personal style inspiration?
A: My personal style stems from all different sources, from my current mood to street style to social media. I'm lucky to live in the city and be exposed to a diverse range of style. I also seek inspiration from fashion bloggers on Tumblr, Instagram and Youtube; one of my favorites is Jenn Im of Clothes Encounters. I think my design background affects my personal style too. It's fun to consider and play with colors, textures, shapes and proportions. This variety of influences encourages me to experiment, allowing my personal style to evolve.
Q: What are your current "must-have" items?
A: Coffee and bold lipstick — nothing like caffeine and some color to amp up your day.
Q: What song has been on repeat on your playlist recently?
A: Manila Killa's remix of "Sleepless" by Flume. Its combination of chill vibes with an addictive beat amazingly fits every mood.