In collaboration with Courtney Denton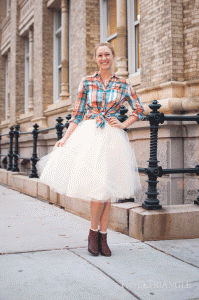 Diana Gasiewski, junior education major
Wearing: Anthropologie top and skirt, Kenneth Cole booties
Q: Who or what inspires your sense of style?
A: A little Grace Kelly, a little Twiggy, a little Stevie Nicks, and a whole lot of me. I tend to follow my gut more than anything else, and I've found that it's worked pretty well thus far.
Q: If you had to wear one thing every day for the rest of your life, what would it be?
A: A great bra. I cannot emphasize enough how important it is to make sure you've invested in a good quality bra. It can really make or break the outfit!
Q: It's sweater season, so jumper or cardigans?
A: I tend to lean toward jumpers, mostly because they can be worn slouchy and still look super chic.
Q: What piece would you recommend to someone new to Philadelphia to help them get through their first East Coast winter?
A: A great winter hat. Not only will it keep you warm, but nothing embodies an effortless city style like a beanie or ski cap (added bonus, it acts as a wind-tunnel fighter!).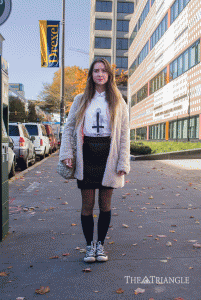 Taylor Murphy, senior design & merchandising major
Wearing: Elevenses coat, T-shirt designed by her boyfriend, Forever 21 collared shirt, Opening Ceremony skirt, dollar store socks and Converse sneakers
Q: Who or what inspires your personal style?
A: I try to and mix and match old and new as well as grunge and preppy. Being able to put unlikely combinations together inspires me.
Q: You said that your boyfriend designed and screen-printed your shirt. Do you share a similar style?
A: I wouldn't say similar style, but I do like a lot of the work he creates.
Q: I caught you on one of the coldest days of the fall; how do you plan your outfits around the weather? (What's your secret to still expressing your personal style as it gets colder?)
A: Lots of layers. Wearing button-ups helps me keep warm as well as socks. Layers are fun; they allow you to create different silhouettes as well as pairing different patterns or colors.
Q: What are you looking forward to most as the term comes to a close?
A: Time to do things I enjoy, like venture to Queens to see the Mike Kelly exhibit at the PS1.
In collaboration with Courtney Denton