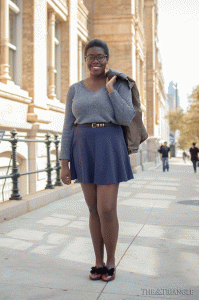 Adesola Onitiri, third-year junior in communication
Wearing: Gap top, H&M skirt, thrifted belt, Born shoes, Michael Kors jacket
What piece in your wardrobe do you wear the most?
I probably wear my denim jacket the most. It was my dad's, before I tricked it out with all of my band and feminist pins. It also has amazing inside pockets.
What's your favorite, but perhaps lesser-known, place to shop?
Lately I've been doing some online shopping. I've found some really cool Etsy stores that I've been obsessed with.
What essential piece would you recommend for someone's first fall in Philadelphia?
It's all about that amazing fall jacket. Find a cozy statement jacket and wear the heck out of it as you eat pumpkin-flavored things. Jackets are also a great conversation starter at fall festivals and music venues.
I ran into you in line for the food truck outside of Hagerty. What sandwich did you get?
Egg and cheese with salt, pepper and a little bit of sriracha.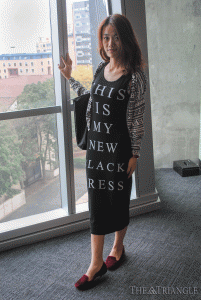 Sijie Li, freshman in marketing
Wearing: Bershka dress, Zara shoes, Guess watch, H&M cardigan, Longchamp tote
What are your style inspirations?
I get my inspiration from the style in Hong Kong and Japan.
What are your favorite stores?
I love to shop at Urban Outfitters and Forever 21 for more casual and laid-back clothes. I also love Zara when I am looking for something more high fashion and chic.
What's the most popular trend in China right now?
You can see everyone on the street wearing colored eye contacts. Most people take their style inspirations from Japan in China, and right now it's popular for everyone to wear big shorts and shirts with leggings.
What's your favorite part about Drexel?
All the girls and guys have such good style here!
What's your favorite American style right now?
I love crop tops paired with shorts and accessories. The accessories here are much bigger and nicer than in China.