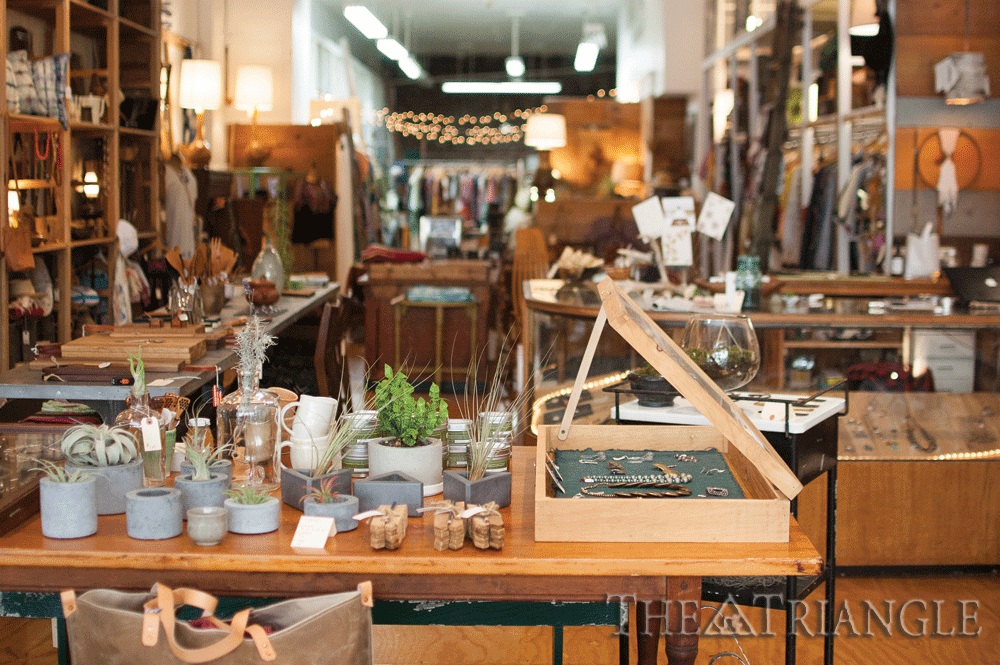 While the April 2013 fire on Fabric Row had dire consequences for some, Chelsea Pearce of Moon + Arrow sees her situation as a relatively positive one. 
After being shut down entirely for two months, Pearce and her team focused their efforts on rebuilding the storefront and preparing the merchandise to anticipate the past holiday season. But because almost all of the brand's jewelry is produced in-house, Pearce said, reassembling the back studio space has been quite the project.
When Pearce founded Moon + Arrow in 2010, the collection had a budding e-commerce business and could be found in fixtures on the Philadelphia boutique scene. After a successful five-month pop-up experiment in the location now occupied by Bus Stop boutique, Pearce came across the shop's current locale at 4th and Fitzwater streets. Even though she grew up only several blocks from her store's current location, Pearce said it was the extensive support of other local businesses that drew her to Fabric Row.
The artist and metalsmith studied at Pennland School of Crafts in North Carolina as well as at the Tyler School of Art at Temple University before moving to Florence, Italy. Tyler's program dealt heavily with computer-aided design programs, but Pearce found that she enjoyed working with her hands much more than with a computer. In Italy, she studied under a master stone setter, smeltists and enamelists, with whom she honed her craft.
"It became more important to me to have my stuff … out there and accessible," Pearce said about her transition from high-end to commercial products. 
As with any creative industry, Pearce noted that she initially held her self to a very high standard, but found that the custom jewelry marketplace was the definition of a niche market. Rather than going through the trouble of saving gold dust, Pearce realized she would be happier in a business where she would be able to interact with people. Moon + Arrow as a brand still produces high-end work, which Pearce welcomes as a bit of a challenge. 
The brand's name doesn't necessarily allude to the shape of a moon and arrow, but it does reference the designer's signature utilization of geometric shapes and linear forms. The title of her line was drawn from a dream, in which the artist was shooting arrows into a field in the golden hour as the sun was about to set. In the dream, she asked her friend what they were aiming for, and her friend told her they were shooting arrows at the moon. Pearce saw this as a metaphor for not only the artistic pursuit, but for any pursuit wherein one strives to do what they love without knowing whether everything is going to work out in the end.
"We keep things pretty simple. It's a big part of the aesthetic," Pearce said. Graphic elements in the form of reclaimed brass tubing form triangular or linear pendants adorn vintage brass chains. Naturally shed antlers, some which were collected by Pearce, are inscribed with delicate wood burning techniques. Recently, the artist even started experimenting with horsehair to form tassels. Geometry, nature, materials and alchemy all work together to inspire Pearce's jewelry collection. Overall, Pearce recognizes the importance of having a notable image or a product. 
"The core of all of our jewelry, all of our metals, is recycled," Pearce said, another notable facet of the Moon + Arrow brand. When possible, they source stones ethically, but that can be difficult to determine after the material has traded hands numerous times. Every tag and string is reused in the store, said the founder of her small but impactful efforts to make the retail process less wasteful. 
"So much of what we make is … made with deadstock pieces," Pearce said. When they run out of a material, it's gone for good, making most of the lines a kind of limited-edition affair. 
While Moon + Arrow consists of Pearce's designs, she also works with Monique Peterson, a recent graduate of University of the Arts who was highly recommended by her academic department. Pearce said that in the end, all of the designs are hers, but Peterson has the freedom to play with them and expands on them. Moon + Arrow also sells some of Peterson's own pieces in-store. 
Along with the namesake brand's several collections of jewelry, the shop carries a wide selection of vintage and repurposed goods. Pearce said she sources all of the vintage clothing on her own or through wholesalers. A portion of the studio space is dedicated to repairing minor damage that vintage clothing is bound to succumb to as a result of age or general wear-and-tear. Pearce prefers to sell the selection of handmade goods from other artisans, such as furniture or household goods, on a consignment basis. She believes this is the way to ensure that the artists make the most profit off of each piece.
In addition to the back studio space and the storefront, Moon + Arrow has an adjacent area called the Moon Room. The multi-purpose art space is currently being used by Philadelphia-based sculptor Shelley Spector, who is working on an upcoming installation. Pearce also noted that another local business has plans to move into the space in the near future.
The beginnings of a new line, a project that has been brewing for a long time, Pearce said, are finally starting to play out. After the ordeal of having to move out and move back in, their torches are set up and Pearce is excited to bring her new designs to fruition.