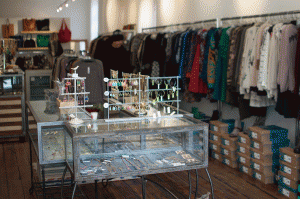 On the corner of North 3rd and Cherry streets, across a cobblestone alleyway and housed in an old art gallery, is where you will find the quaint Old City boutique Lost + Found.
Lost + Found was founded in 2004 by Sandy and Jenny Martin. Before they opened their current business, the mother-and-daughter duo operated a vintage shop for 14 years in the antique market district of South Street. According to Sandy Martin, the name Lost + Found was inspired by her more than 20 years of vintage buying experience.
Its reclaimed gallery space lends this Old City shop two large windows facing the sidewalk and a long, airy interior. A small, brown-handled shopping bag bearing the word "OPEN" in handwritten letters welcomes customers on a quiet but sunny October afternoon. The shop's breadth of merchandise includes men's and women's clothing, along with both new and vintage shoes and accessories. Guys will find a curated collection of Ben Sherman khakis, OBEY button-front shirts and backpacks, Original Penguin cardigans, Woolrich newsboy caps, and a basket of Happy Socks in every print imaginable. Greylin dresses, Tulle jackets, Sugarhill Boutique sweaters, and Ark & Co. blouses make up the more expansive women's collection. The vintage options for men include belt buckles and a sizable selection of plaid flannel shirts. Ladies will find a more varied selection of embellished secondhand sweaters, leather loafers, Dooney & Bourke bags, and printed maxi skirts. Prices range from $15 for a colorful vintage blouse to $130 for a silk dress, with a select few items priced at more than $60. A standout item was the Seychelles Scoundrel ankle boot with buckles and cutout leather detail.
All vintage products are sourced by the owners directly. "If you have an intermediate person, … your prices are going to be high," Martin said. Without giving away the names of her favorite locations, she cited local thrift and consignment stores as her preferred destinations. While they like to take current trends into consideration, Martin insisted that she and her daughter primarily rely on their personal taste. "If it's something we didn't like, we probably wouldn't buy it."
When buying new products, both Martin and her daughter take turns visiting trade shows and vendor showrooms. Most of their buying business takes place in New York City at industry trade shows such as Intermezzo, which showcases moderately priced fashion brands, and Coterie, which tends to promote more high-end merchandise. When a new season calls for a refreshed merchandise selection, Martin also makes appointments to visit vendor showrooms in New York. At this point in her career, Martin said she is confident in her ability to find affordable yet special merchandise. She and her daughter will often visit trade shows separately so that one of them can stay and look over the day-to-day operations of the store. Martin said that despite shopping independently, they consistently select the same merchandise. On this particular Wednesday, a representative from L.A. Made arrived early for an appointment with a large suitcase stuffed full of next season's samples. Martin said it is a privilege when vendors come to the store because it means that she and her daughter can sit in on the meeting together.
Martin had just finished ringing up a geometric print cardigan and agreed with her customer that, yes, it has gotten cold quite suddenly. This time of year is when Lost + Found sells the most sweaters, according to Martin. She said she likes to stock easy printed blouses in the spring and summer months, pieces that her customers can throw on with jeans to look put-together and stylish. Martin likes to keep her target customer in mind, but she also likes to take chances on unique pieces that pique her interest. She pulled out a gray sweatshirt with the fierce face of a leopard on the front. She had lots of fun building the boutique's collection of animal-print sweaters this fall. Another favorite was a knit jumper from Sugarhill Boutique, a U.K.-based brand that is new to Lost + Found, which bore a whimsical illustration of a brown squirrel.
"You have my little bag!" the apparently returning customer said on her way out. "I see you still have some," she said as she motioned to a collection of leather purses with chain straps.
Martin noted her target customer as a working woman between the ages of 20 and 30, but she admitted that her customers' ages can range from 18 to 60. Her regular shoppers are often residents of the neighborhood who pass by the store on their way to or from work. She also noted that women are her most reliable customers. Men have more sporadic shopping patterns and often only come in for new merchandise when the seasons change, Martin said. She and her daughter have considered discontinuing their men's selection in the past but have decided to hold on to it for the foreseeable future.
Apart from its two owners, Lost + Found employs several part-time employees. Martin said they have used interns in the past and would definitely consider hiring a young mind to operate their Facebook and social media accounts, which have admittedly fallen to the wayside. For the most part, the Martin women are involved in every facet of their business. "We like to be hands on," Martin said. One neighborhood event they participate in on a regular basis is the popular First Friday. Once a month, the shop stays open for a few extra hours and serves wine to the curious, and sometimes rambunctious, crowds that make their way to 3rd Street from all over the city. Martin said she feels it is an invaluable way to introduce Lost + Found to shoppers who may not come into the store otherwise. This applies especially to Philadelphia's student population, which is quite removed from the historic neighborhood of Old City but would be hard-pressed not to find a new wardrobe addition in this stylish enclave.