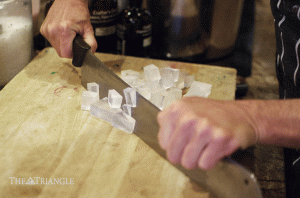 Duross & Langel started out with three shower gels, one moisturizer and a handful of soaps.
On this particular Monday morning, Steve Duross was skillfully chopping a large brick of coconut oil base for his store's soap. These smaller chunks were then transferred to a tall pot where they were melted down; mixed with essential oils, scents and natural colors; and then set aside to cool. This particular batch was destined to be pumpkin scented.
The demand for Duross & Langel products has grown so steadily over the past nine years that Duross is only able to use the second-level kitchen of his 117 S. 13th St. location to complete the finishing processes of his soaps. It is in this space that he also concocts a handful of scrubs and balms. When the soapmakers first founded their brand in 2004, Duross and his business partner, James Langel, sold their line out of Duross' hair salon and formulated their products in his home kitchen. Duross is now the sole proprietor, and in addition to designing all labels and packaging, he spends most of his days making the product he sells.
He now outsources production of their soap base to a local chemist who follows a recipe to produce between 2,500- and 5,000-pound increments. According to Duross, their soap is triple French milled and cured for anywhere from six weeks to six months before he receives his shipment. He said he works with family-run laboratories and small businesses to develop base formulas for the products that he is unable to produce in-house.
"The soap is made in three processes, and the third process, which is the most fun, where you add extracts and oils and color and fragrance, they're all done here," Duross said. Anything that is 100 percent natural — such as their balms, butters, soaps and scrubs — are made on the second level of the store. He recalled how it used to take 36 hours to make 25 pounds of soap in his basement. A hot process, which takes less than two days, results in a softer bar with a lower pH than soap produced using a two-week cold process, Duross said. He does this to ensure that his soap will not strip skin of its natural oils. According to Duross, it is also better for the environment.
Duross said he was adverse to the universal idea of a mission statement because so few businesses actually follow them. However, his vision for Duross & Langel appears to have held strong.
"My business model was about making really great products and selling them at an affordable price," Duross said. "For me it's not about the color; it's not about the fragrance or the oil. It's about the base product."
Always looking for a way to advance his formulas, Duross said he recently decided to make his products sulfate-free. However, when he is looking to create something new, he often turns to his customers.
"You wouldn't believe how much our customers are responsible for what you can find on the shelves," Duross said. "If enough people are asking for enough things, I begin to look for ways to create what people want." He starts by creating a one-off, or a small batch of product, which he uses to gauge his customers' response. When his customers come back and ask for more, he knows he got it right, Duross said. The brand's coffee mint scent was even inspired by a loyal customer who wanted to buy hand soap in pumps from Duross & Langel. Now, the coffee mint scent has been realized in both bar soap and hand soap, and the hand soap line encompasses 14 different scents. Duross said that building a relationship with his customers and responding to their needs in this way is an integral facet of his business.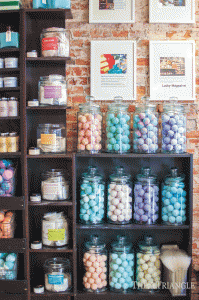 "We always feel gratitude when the bell rings and someone comes into the store, when we realize someone is spending their money with us," Duross said. "We care about the product itself. I think those are the things that ultimately will lead us to our gre
ater success." Duross said his background is as a licensed and board-certified cosmetologist and esthetician, while his original business partner,
Langel, graduated from Drexel University's master's program in business administration. Before he opened first business, Atlas salon, Duross worked for American Crew as part of develoAfter spending seven years testing and using products with American Crew, he became interested in how products were made and formulated. Duross insisted that his transition to soapmaker was a natural progression. He uses his own products and his personal experiences to ensure that his products are the best they can be. It took him five years to get his shave cream to his liking, Duross said. He has also forayed into perfume making and now sells about half a dozen scents. He had to go through a licensing process by the Bureau of Alcohol, Tobacco, Firearms and Explosives in order to purchase the alcohol necessary to perfect his craft. "I intend for that to be the first line of my obituary, not 'soapmaker.' It'll be 'perfumer,'" Duross said. Duross said that while most entrepreneurs grow their business with the intention of one day selling it, selling Duross & Lan
gel is the last thing he wants to do. "For me it's no longer about Duross & Langel … it's about the family," Duross said. In addition to his nephew and other current partner, two of his nieces and nephews will join Duross & Langel as partners in January. Rather than growing somewhere else, Duross said he is interested in bringing on individuals who have proven themselves as viable assets to the company. He said he expects the future owners of his business to want to expand or to distribute their p
roducts through wholesale ventures, but his goals are much more refined. "That's not what I got into this for; I got into this to make soap," Duross saidpment for their men's hair-care line.