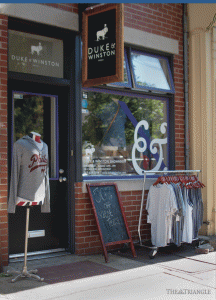 Upon entering the offices on the second floor of the Duke & Winston showroom, I was eagerly greeted by an English bulldog whom I recognized as none other than the Duke himself. Founder Seun Olubodun was kind enough to sit down with me and tell the story behind his Philadelphia-based casual clothing line as well as his plans to grow his business this fall.
The Duke & Winston brand began with a single design in 2009 and quickly grew to encompass an entire line. Olubodun recalled a seminar at the Moore College of Art & Design back in 2008 where Johnny Earle, creator of the Johnny Cupcakes T-shirt line, was a speaker. At the time, Olubodun was running his own Web design business, which he started from his residence hall room at Temple University, and he went to the event with the intention of taking on Johnny Cupcakes as a new client. He left the seminar feeling inspired by the way Johnny "built a T-shirt line into a huge following."
"Philadelphia doesn't really have its own clothing line … that's based here for guys," Olubodun noted as he recognized an entire potential market just waiting to be tapped. Web design "was a job where I had to go out and find a new client, and each time you got one you had to start over," Olubodun said. Contrarily, a single tee design could be sold over and over again to new customers.
Despite having extensive Web design experience, Olubodun recognized his need to outsource his design concepts to professionals. "I'm not a graphic designer, but I can lay stuff out," Olubodun said, so in addition to designing his own website, he maintains creative control by having his own concepts refined by "two of the best graphic designers … in the country." His first design, which featured his dog Duke, is also the brand's best-selling item. The Duke & Winston showroom is just over a year old, and according to Olubodun, most of his business for the first three years consisted of selling his product at trunk shows and lending his line to vendors on consignment. He frequented the Rittenhouse Row Spring Festival and outdoor events at The Piazza at Schmidt's in order to get his product noticed, which he said is the best way to start selling a new product. "You have to go to where your customers are and just set up," he advised, "set up and just start selling."
The first store to feature his line was the Philadelphia-based boutique Matthew Izzo. The line is currently carried in cities such as Newport, R.I.; Nantucket, Conn.; and several New Jersey beach towns, including Avalon and Stone Harbor. Current vendors are located as far south as Florida and even overseas in the U.K. and Australia.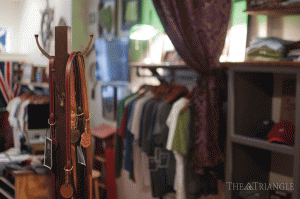 Eventually the merchandise categories expanded to include men's polo shirts, sweatshirts and even pet products. While not all Duke & Winston products are produced in the U.S., one of Olubodun's goals for his 2014 line is to manufacture it entirely in the states. Currently, some tees are sourced from American Apparel; men's ties are made in New York; and Duke & Winston's leather goods, such as dog collars and leashes, are made here in Pennsylvania. "All of my garments will be made in … downtown [Los Angeles], hopefully," Olubodun added. He has a visit scheduled next month to the factory in LA where his samples for the 2014 collection are being produced.
It turns out the Duke has a greater role than simply serving as the brand's mascot. Olubodun noted that from the start he intended to build a personal relationship between his brand and his customer. "Most people that shop up here know who I am and know who the dog is. My mission is to create a line that people have a personal connection with." Olubodun's goal for Duke & Winston from the beginning was "to have an independent clothing line for guys — and girls when I get to that," who "don't really care so much about, like, the fashion industry as a whole," but who like products that are simple and accessible while still maintaining the differentiating qualities of an independent brand. Olubodun painted a picture of a "preppy" target customer who likes "outdoor activities, tennis, and they love their pets, and I just develop stuff that fits into these people's lifestyles." Most distinctively, Duke & Winston customers want the same quality and style for their four-legged best friends.
Located on 2nd Street just north of Spring Garden Street, the Duke & Winston showroom sits less than a block away from other independent boutiques including Art Star, R.E.Load and Arcadia. According to Olubodun, their showroom location is just over a year old and houses four to five full-time employees as well as several interns. The Duke & Winston family is small, but Olubodun admitted that "everyone who works here pretty much comes from Drexel." Claire Resnick, a sophomore design & merchandising student at Drexel, had just started the first day of her internship with the brand. In addition to designing the shop windows earlier that morning, she said her duties going forward would include building the brand's social media presence through its Twitter, Instagram, Facebook and YouTube accounts. Olubodun also mentioned the next round of co-op applicants that he will be considering for the upcoming spring and summer terms.
So what will 2014 hold for Duke & Winston? Olubodun said he hopes to expand his menswear brand nationally through networking at trade shows in New York, Chicago and potentially Las Vegas. By 2015 he hopes to incorporate women's clothing by bringing a womenswear designer to the team. A pop-up shop is slated to open in November in Bryn Mawr, Pa., and, while the shop is only scheduled to stay open for about three months, Olubodun said he hopes it will generate enough business to grow into a second storefront. Read more about Duke & Winston atdukeandwinston.com and follow the brand on Twitter and Instagram to stay up to date.