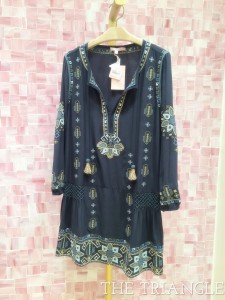 Calypso St. Barth launched its first store in 1992 in St. Barth, a Caribbean island, and now has 52 stores all over the United States. The brand is inspired by travel, culture and art. Women of all ages appreciate their highly unique pieces. From dip-dyed kaftans to cashmere cardigans, Calypso St. Barth provides customers with both modest and comfortable pieces.
Sara Brady, the manger of the Calypso St. Barth's Philadelphia store, said the brand is "faithful to our origins in St. Barth. [They] are a lifestyle brand dedicated to translating the friendly luxurious and warm island spirit to our multi-generational customers. [They] design and curate an assortment of effortlessly chic apparel, accessories and home products with an ethereal vibe and global appeal." The brand is also devote to creating unique and quality pieces with "exquisite textures, rich colors and special embellishments," according to their main website.
Brady also believes that Calypso St. Barth is feminine and comfortable for all women including students, local Philadelphians, tourists and teachers. According to her, the range of customers is incredibly diverse. The most popular and favorite pieces from their store include the Evida lace dress, the Nona embroidered silk dress and the Lektri hand embellished linen dress. These three dresses are colorful, unique, lightweight and sheer, which is perfect for an elegant day!
Aside from their dedication to comfortable style, Calypso St. Barth is also very passionate about giving back to the community. The store has supported local communities such as Dream Violet Foundation, LIFT Philadelphia and Philadelphia Children's Hospital. In April, the brand also supported the Wharton School of the University of Pennsylvania's fashion show.
Although Calypso St. Barth may be best known for their airy kaftans and sumptuous cashmere designs, the store also carries a home collection named Maison. The brand's home collection is inspired by artworks from India, France and Argentina.
Calypso St. Barth is located at 1613 Walnut Street, and if you have never been to their store, you should add it to your shopping list!