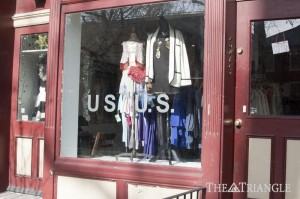 The greater Philadelphia area is characterized by artistic culture and creativity on every street. Whether in University City or all the way down in South Philadelphia, there are countless beautiful stores and boutiques to admire. US*U.S., a boutique located in Old City, is no exception.
What makes US*U.S. unique is that everything inside is made in Philadelphia, and the store is run by locally based designers. The owner, Lele Tran, opened the boutique in February 2012. A graduate of Drexel University, she considers Old City to be one of the best locations in Philadelphia to build a creative business.
"It's full of art and culture. It is surrounded and visited by creative people from all over the world. It's charming with many traditional American characters. Most importantly, rent is affordable," Tran said.
Each designer at US*U.S. has a unique, distinctive aesthetic. Tran carefully selected seven designers to join her and her unique creations to fill out the boutique's displays.
"We come together under one co-op shop to work and to realize our dreams by creating and selling our fashion items. Some of the designers were my fashion students that graduated from Moore [College of Art & Design]," Tran said. "Some were my interns when I had my own LELE shop on 13th Street. Some came to be a part of the co-op because they heard stories. Everyone agreed that having a designer co-op shop was a wonderful idea!"
US*U.S. attracts local shoppers and established professionals alike. The store provides customers with one-on-one attention from professional fashion designers. This aspect is beneficial not only to customers but also to the designers working in the boutique because they get to see consumers try on their merchandise and witness how they respond to their collection. One of the designers featured in the boutique is Nicole Haddad, designer of Lobo Mau, who graduated from Drexel University with a master's degree in fashion design. Lobo Mau is a sleek and edgy line that uses unique textile prints that won't go out of style. Haddad collaborates with textile printer Ryan Parker to create exclusive prints for her line.
With the holidays coming up, US*U.S. is the perfect place to shop for unique, locally made gifts, including Lobo Mau scarves, holiday-themed childrenswear by Secret Bohemia and a new unisex line by LELE. Stop by the store's Old City location at 323 Arch St.
*The currently available fall collections are LELE by Lele Tran, Secret Bohemia by Cari Brezina, Mariel Rojo by Mariel Rojo, Caterina Sanchez by Caterina Sanchez, Corazon Swimwear by Rachel Sadler, Aso Damisi by Moriano Johnson and Latifat Obajinmi, Heartless Revival by Autumn Kietponglert, and Lobo Mau by Nicole Haddad.