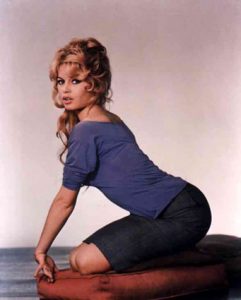 When it comes to trends, one thing is for certain: they always come back around. Fashionistas everywhere are feeling nostalgic and buying all the clothes and accessories  they wore in middle school. Whether or not you were one to follow the trends when they first became popular, there's still time to try them out.
The 70s influence is one that has been around each season for the past couple of years. Ringer tees, which gained most of their popularity in the '70s, are back again for another round in the spotlight. This style of shirt features a solid colored T-shirt with contrasting collar and sleeve bands. Right now, you can find ringer tees everywhere: at Urban Outfitters, Forever 21 and online at ASOS.com.
Shake off the bad weather we've been having lately and start wearing off-the-shoulder tops again. Also known as Bardot tops, the neckline is extremely flattering and perfect for the rising temperatures. These tops had their moments in several decades, clean and classy in the 50s, loose and free in the 60s and 70s, and super cool in the 80s. Now, they're available as crop tops and body suits, making them sexier than ever.
Culottes started the flare pants trend very early this season, and paved the way for other wide leg pants, like bell-bottoms, to come back onto the scene. They're just as comfortable as sweatpants or yoga pants, but much trendier. Due to the silhouette, it may seem a little overwhelming to style wide leg pants. However, the classic style can be easily paired with anything from crop tops to T-shirts and sandals to sneakers.
In the warmer months, switch out your jeans for a denim skirt. Denim skirts aren't quite what they used to be; we now have more options than a tiny mini that barely covers the rear. A longer denim skirt that comes to the knee is just as stylistically effective as a mini skirt. If you want to experiment, go for an embroidered pair or even one with fringe.
It's safe to say that the future of fashion trends is definitely stuck in the past. Next time you think about throwing away your clothes because they are not in style anymore, think again! Wait a couple seasons and they will probably come back around.