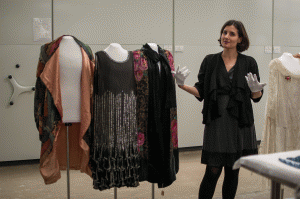 Fashions of the jazz age took center stage at Drexel's first Fashion Friday Seminar, hosted Oct. 25 by curator Clare Sauro at the Drexel Historic Costume Collection.
More than a dozen alumni, students and benefactors of the collection were in attendance. The all-day seminar focused on 1920s fashion and consisted of an informational lecture followed by a luncheon and a guided tour of the restoration and storage space. This was the first of what is planned to be a quarterly event, inspired by a growing interest in Drexel's expansive costume collection.
Sauro, clad in white gloves, began with a pair of red leather T-strap shoes with delicate cutout detail. Women of high society were expected to have small and slender feet, Sauro said. They spent very little time barefoot and never participated in strenuous activity. One of her favorite pieces is a pair of pale pink Keds tennis sneakers. According to Sauro, finding everyday items from this era is a rare occurrence. This is most likely because they were not greatly valued by their original owners.
Next on the tour was a selection of beaded dresses, surely hallmarks of jazz-age fashion. Sauro noted which dresses were worn during the height of the Charleston dance craze by the length of their hemlines. More constricting styles would have been worn for more modest dancing.
A recent addition to the collection was a Chanel couture blazer made of hand-sewn sequins. The jacket had no label or record of origin, but Sauro expressed her confidence in its donor. According to Sauro, many couture pieces from this era were notable due to their fabrications rather than their design. A black mesh Egyptian-style shawl was woven with strips of silver. A simple shift dress was cut from a cloth woven with patterns of copper thread made to imitate Arabic letters.
The items selected for the seminar were only a minute portion of what the costume collection currently possesses. This is the first time in 40 years that the entire collection has been in one space, Sauro said. Even a year after moving into the URBN Center, she and her student workers are still unpacking an estimated 12,000 to 14,000 pieces.
Sauro came to Drexel in 2008 from New York City's Fashion Institute of Technology, where she served as an associate curator for the college's historic costume collection. In addition to overseeing Drexel's expansive collection, Sauro also teaches several history of costume courses for students of the Antoinette Westphal College of Media Arts & Design. The contents of the Historic Costume Collection, located in the URBN Center at 3501 Market St., along with Sauro's extensive personal knowledge, are available to all Drexel students by appointment.