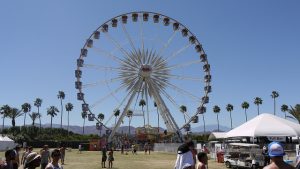 Spring is here and summer is around the corner, and you know what that means. Festival season is upon us and we're ready for a summer filled with music, sunny days and festival fashions. Coachella kicked off the season, held over two weekends and bringing in all kinds of visitors from Kylie Jenner to the top fashion blogger and street style star Chiara Ferragni. Trends change over time and the days of hippy chic at Coachella are long gone (sans the 12-year olds who didn't get the memo). Yes, you have heard it correctly, the flower crowns have come off of every celebrity's head and all landed in the accessories department of Forever 21.
This year, music junkies and style stars showed up to the desert festival in flowy pieces, many sheer, to keep them cool and protected from the sun. Quirky and fun prints were present, as well as a lot of black, which made these festival outfits feel more sophisticated. Another look that continues to make an appearance is the "California Cowboy" look complete with cowboy boots and western inspired looks like suede fringe, denim shorts and neutral tones.
Another thing popping up all over are chokers. Making a major come back from the '90s, these little necklaces you wore as a kids are becoming a stylish new trend and have been restyled to be a sophisticated yet playful accessory. Another playful accessory that celebs decided to debut was new hair colors; Taylor Swift went bleach blonde, Kylie Jenner went peach then pastel rainbow and Emma Roberts went with an auburn hue.
So if you plan on attending a festival any time soon, wear something funky and daring, but something that is still totally your style. This is your opportunity to be playful without raising any eyebrows or having to care about judgment! So take a note from the celebrities and style gurus who attend the event. Be fearless and have fun.