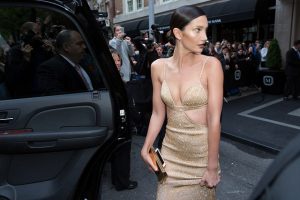 The Metropolitan Museum of Art was filled with celebrities, models, fashion designers and journalists during the Met Gala May 2. Every year, the Met Gala celebrates and welcomes a new exhibition curated by Andrew Bolton. This year's exhibition, named "Manus x Machina: Fashion in an Age of Technology," celebrates "how fashion designers are reconciling the handmade and the machine-made in the creation of haute couture and avant-garde ready-to-wear," according to the museum's official website.
This year's theme for the Met Gala was tech white tie. Every attendee used this theme in their own manner. Outfits shown on the red carpet ranged from glow in the dark gowns to black suits with cyborg-esque sleeves. Here are some of the best and most innovative looks from the evening.
As co-chair of the gala, Taylor Swift decided to wear a metallic Louis Vuitton dress with harness detail. The short dress also included cutouts from the sides which showed off her incredible abs. To top off the look, Swift paired the dress with a pair of black knee-high strap heels which were reminiscent of a gladiator style. As for hair and makeup, Swift debuted her new platinum blonde hair on the red carpet that evening and went for a bold, dark lip.
One of the biggest stars of the evening, Beyonce, showed up wearing a skin-tight latex dress by Riccardo Tisci at Givenchy. As a loyal fan of Tisci's work, it was no surprise that Beyonce decided to wear a Givenchy number again this year. The innovative dress was a hit or a miss for many of her fans. Regardless, Beyonce was named as one of Vogue's best dressed of the evening.
One of the biggest standout couples of the evening was without a doubt Kim Kardashian West and Kanye West. Kardashian West wore a heavily embroidered metallic dress from Balmain while West paired his matching metallic Balmain jacket with a pair of ripped jeans from Fear of God. The couple was definitely in tune with the gala's theme as they both, especially Kardashian West, looked as if they were from the future.
Another standout couple of the evening was Gigi Hadid and Zayn Malik as they walked the red carpet as a couple for the first time. Hadid wore a custom-made Tommy Hilfiger dress that had a metallic bodice and flowy sheer off-gray fabric on the bottom. As a collaborator with Hilfiger, it was no surprise that Hadid decided to wear one of his pieces to the Met Gala. Hadid paired the dress with Lynn Ban rings and earrings to top off the look. Meanwhile, Malik wore a Versace black suit that incorporated metallic robot-like sleeves. It was clear that Malik took the tech white tie theme very seriously.
Lea Seydoux looked beautiful in her black Louis Vuitton dress. The off-the-shoulder dress also included a center slit on the bottom, making Seydoux look both extremely elegant and sensual at the same time. Seydoux kept her jewelry game simple by pairing the dress with Chopard earrings and black strappy heels.
Although the majority of the attendees wore custom-made pieces by luxury designers, models Lucky Blue Smith and Pyper America Smith wore custom-made pieces by H&M. Lucky Blue showed up with a well-fitted white suit jacket, leather skinny pants and black bowtie. Meanwhile, Lucky's sister wore a statement metallic gown that had a very low-cut neckline and a long train. To make things more interesting, Pyper America also dyed her blonde hair light pink.
The secret to achieving the balance between looking both futuristic and sophisticated was perfected by supermodel Lily Aldridge. The Victoria's Secret angel wore a stunning gold shimmering Michael Kors dress that included cutouts from the sides and thin shoulder straps. However, her dress wasn't the only statement piece of her whole outfit. Her makeup look was extremely adventurous as she dyed her eyebrows to gold and wore a statement bold, dark-burgundy lip.
Another supermodel Karlie Kloss wore a white Brandon Maxwell dress that included lots of cutouts around the chest and midsection area. The look was simple, sensual and tasteful at the same time. For the after party, Kloss shared a video on her Instagram of Brandon Maxwell cutting the bottom of her dress with a pair of scissors to make it shorter.
Perhaps the only attendee who wore anything besides metallic or silver during the evening was Bella Hadid. The model, sister of Gigi Hadid and girlfriend of musician The Weeknd wore an all-black Givenchy Haute Couture gown. The gown was well-fitted and tight at the top, but had a thigh-high slit on the bottom. Hadid also paired the black dress with a pair of Givenchy thigh-high peep toe boots. As for her date, The Weeknd also wore an all-black suit by Givenchy.
Last but not least, Kendall Jenner wore a velvet Atelier Versace dress with lots of detailing. Jenner worked with Donatella Versace on the gown – it was laser-cut and topped with tiny blue Swarovski crystals. As this was Jenner's third Met Gala, the dress showed that she will continue to impress us with her new, innovative and adventurous looks.
Although this year's Met Gala theme was slightly vague with tech white tie, lots of attendees showed up wearing innovative and modern designs. To find more looks online, please go to www.vogue.com. The exhibition "Manus x Machina: Fashion in an Age of Technology" will be on display at the Metropolitan Museum of Art from May 5 to August 14.