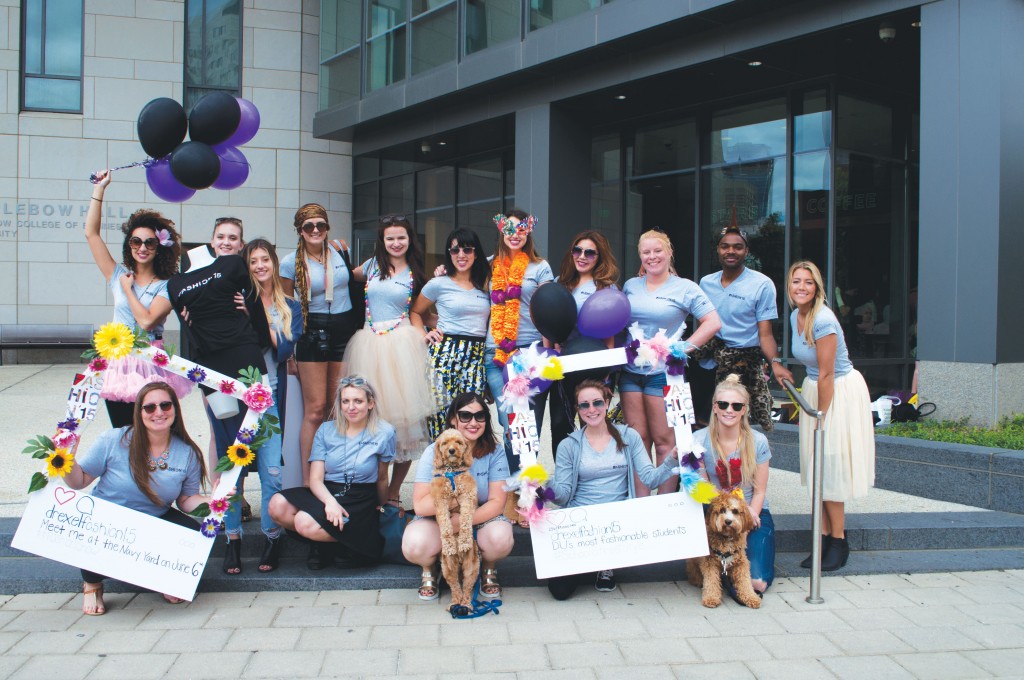 To promote this year's fashion show, Fashion'15, the production team, mainly comprised of Drexel University design and merchandising students hosted a pop up fashion show May 13. The show was a guerilla marketing strategy planned by the team's co-public relations and marketing coordinators, Jaclyn Fleurant, a senior majoring in design and merchandising, and Courtney Carey, a junior double majoring in design and merchandising and psychology.
The show was carefully scheduled to take place during two class time transitions, where most students were walking around campus. During the show, 10 models walked from Gerri C. Lebow Hall, through Perelman Plaza, and Chestnut Street to Mario the Dragon statue and back to Gerri C. Lebow Hall. All models wore a Fashion'15 T-shirt, while wearing over the top bottoms including tutus and colored leggings. In addition, the models accessorized with feathered masks, headdresses, beaded necklaces and sunglasses. While walking through campus, the models held balloons, Instagram frames and signs with information about the fashion show.
After the show, the models interacted with passersby to inform them about the fashion show. In addition, ticket sales and merchandise were also held at Lebow Hall for those who were interested in purchasing.
Since the purpose of the pop up fashion show was to raise awareness for this year's fashion show, both Carey and Fluerant believed their guerilla marketing strategy was successful. According to Carey, "We spoke to many people who hadn't known that we present a show each year. We wanted to peak people's interest just enough to visit the website and buy tickets." However, the show wouldn't have been as successful if it weren't for the models and promoters. Carey said the models, "really generated excitement and awareness. They succeeded in doing what we hoped to do, [which was to] spread word of the show and get people interested."
Carey said the only weak point of the show was the team having high expectations for a short amount of time. "It's tough to engage students who are in a rush to get to class," Carey explained. However, Carey believed this could be resolved. "[The team will] be setting up a ticket table in the coming weeks, so everyone can purchase tickets and get all the information they need," Carey said.
Fashion'15 will be hosted at the Urban Outfitters headquarters at the Philadelphia Navy Yard June 6. Tickets can be purchased online through their Facebook page at www.facebook.com/DrexelFashionShow.com.