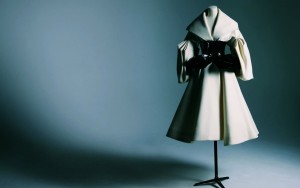 Paris Haute Couture Week is one of the most important events in the fashion industry. Hundreds of magazine editors, celebrities, socialites and buyers fly to Paris to view the extravagant and heavily detailed handmade pieces crafted by top designers. This season, there were several collections that stood out from the rest.
Atelier Versace's collection departed from their usual style this season by presenting a soft pastel collection inspired by the California-based music festival Coachella. The collection featured embroidered flower crowns, asymmetric skirts, long and airy gowns with floral stitched details. Versace's signature edgy and rebellious girl was not in sight. Instead, every piece was beautifully draped, layered and loosely fitted. The only tightly fitted items in the collection were the handmade corsets that were paired with long ruffled gowns. Here, Donatella Versace proved her ability to design for a completely different kind of woman and still maintained the Versace spirit and attitude in the collection.
The most anticipated collection every year is, without a doubt, Chanel. Karl Lagerfeld's ability to constantly design luxurious collections and elaborate sets each season proves exactly why. In the past, Lagerfeld has created a Chanel-themed supermarket, art gallery and brasserie, as well as many more beautifully immersive sets. This season, Karl transformed Paris' Grand Palais into a Chanel-themed casino, complete with Chanel-branded gaming tables and slot machines in the center of the set. At the start of the show, Lagerfeld's muses including Julianne Moore, Kristen Stewart, Rita Ora, Lily Collins and young newcomer Lily-Rose Depp walked out and gathered around the gaming tables to play. All of the models, who came out soon after to begin their walk around the tables, wore matching black-cut bob wigs. Some wore a three-dimensionally printed version of the company's signature tweed jackets — a major step in today's fashion world. The show closed with an almost unrecognizable Kendall Jenner as Lagerfeld's couture bride, wearing an untraditional sharp white blazer and white trousers with a long tulle veil.
Raf Simons welcomed his guests at the Christian Dior show with a building constructed of geometric glass panels, all hand-painted with colorful flowers composed of tiny dots. These stunning blooms set the tone of the collection, as models walked down the runway wearing pieces inspired by the dark renaissance painter Hieronymus Bosch's masterpiece "Garden of Earthly Delights." According to Bridget Folley from Women's Wear Daily, Simons wanted his collection to be full of contrasts by including "very hard and very soft, very dark and very light, very angelic to very sexual" pieces. Pointillism influenced several long ankle length gowns, harnesses were worn both over and under long chiffon gowns and long V-neck embroidered dresses had high side slits, exposing the women's rib cage and thighs.
Couture week closed in Rome instead of Paris due to Valentino's abrupt change of plans. The designer duo Maria Grazia Chiuri and Pierpaolo Piccioli decided to bring the Italian brand home this season to Rome, where Valentino Garavani first established the house during the 1960s. The collection included knee-high gladiator sandals, heavy gold accessories and Valentino's signature silhouette long-sleeved gowns with a long neckline and cinched at the waist. Lace, a regular material in Chiuri and Piccioli's designs, made an appearance in many of the pieces, either as a sleeve, a dress or as a cape. The models appeared to look similar to Roman goddesses or empresses, as the collection as a whole was very regal and opulent. According to Nicole Phelps from Style.com, "There were ancient symbols all over the collection, from the wheat stalks on a golden lace dress to the griffin embroidery on a floor-length poncho." With a focus on regal and timeless beauty, Valentino ended couture week on a powerful note.
To view the couture collections, visit www.style.com.