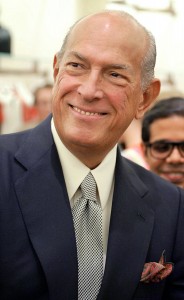 On Oct. 20, legendary Dominican designer Oscar de la Renta passed away at the age of 82. Based in the United States, the designer died after a battle with cancer at his estate in Kent, Connecticut. De la Renta was mostly known for bringing the worlds of high society and couturier together. He was the first American designer to showcase his work at Paris Fashion Week.
Over the past few years, De la Renta has designed for some of the world's most famous women. In addition to big names such as Oprah Winfrey and Anne Hathaway, De la Renta has designed for every first lady since Jacqueline Kennedy. Particularly, De la Renta also dressed First Lady Michelle Obama for her fashion education workshop. Most recently, the iconic designer created the wedding dress for Amal Alamuddin, the English-Lebanese lawyer who wed George Clooney this past September.
Before the establishment of his own label, De la Renta worked with Cristobal Balenciaga, Antonio del Castillo at Lanvin and Elizabeth Arden. After working with these labels, De la Renta created his own company in 1965. Today, his company is worth approximately $150 million.
Since the announcement of the celebrated designer's death, many notable figures have expressed their sadness and grief. According to Alina Cho, fashion journalist and editor at large at Random House, De la Renta was "a true, true gentleman, in the truest sense of the word — a real bright light — and this is just a terrible, terrible loss for the fashion world."
Former President Bill Clinton and his wife, Hillary Clinton, stated on their website that De la Renta's "singular talent and exquisite taste elevated American fashion, and his warmth and friendship will be missed by our family and all whose lives he touched in his extraordinary journey," and that the pair "will always be grateful to Oscar for the love he showed us, and for sharing his talent on some of the most important occasions of our lives." In addition, Barbara Walters has also expressed her heartbreak on the designer's death, "Oscar de la Renta was not just a creative and original artist he was also a great business man. He was most of all one of the wisest, kindest and funniest friends you can have. All of us who had the pleasure of knowing him, have aching hearts today."
Just last week, the company had announced De la Renta's successor. Peter Coppings of Nina Ricci will take over as creative director. In a statement, De la Renta expressed how the fashion industry "has not always done the best job when it comes to changes in design leadership. My hope is that, in leading this selection and actively participating in the transition, I can insure the right design future for our company and brand." All eyes will be on Copping's next collection for the design house next season, happening in February.