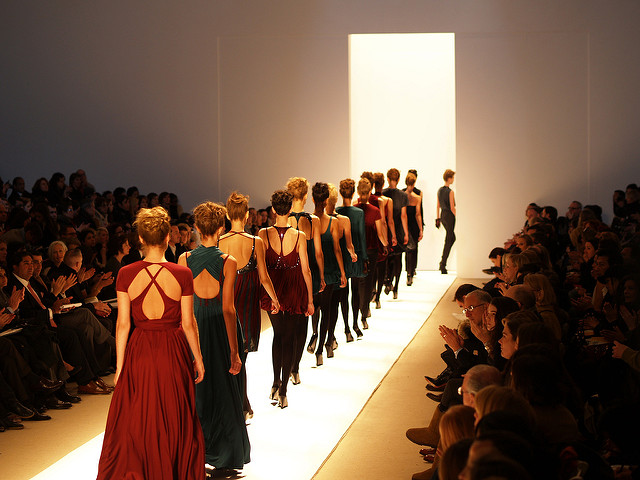 It's that time of year again! Fashion editors, street style stars, bloggers, stylists and the who's who of the fashion industry were all in attendance, and they put their best outfits forward for the event. New York Fashion Week is a time like no other. Models and editors rush to make it to their next show, last minute alterations are made backstage and designers finally get the chance to share what they have been creating since the last presentation. Here are some of the trends we saw make a big mark on fashion week and that will most definitely trickle down into a store near you come fall.
Off-the-shoulder
This style has made an appearance yet again on many catwalks, much like it did in the Spring 2016 shows. According to designers, shoulders are the new "it" feature to show off. While showing some skin in a place not typically thought of as sexy, the off-the-shoulder look creates an allure without giving away too much. Designers including Jason Wu and Brandon Maxwell used this trend to bare just the right amount without overdoing it.
Big, long, art inspired sleeves
If you are looking to make a statement while still dressing on a more "normal" spectrum, opt for long statement sleeves. Whether the sleeves are ultra long as seen at Marc Jacob's or Public School's presentation, or artsy and whimsical like the lace sleeves from Sophie Theallet's show, an eye-catching sleeve is one of fashion's new favorite statements.
Logos, logos everywhere
Whether you saw them cover a model's breasts at Alexander Wang's show or at Rihanna's Fenty x  Puma presentation, logos and branding found their way onto several stages for this season. Of all the shows that used branding and logos in their collection, DKNY's Dao-Yi Chow and Maxwell Osborne created possibly the most memorable logo looks of New York Fashion Week. Using DKNY as an acronym for phrases such as "Don't Know New York" or "Designers Know Nothing Yet" these playful pieces are ultra wearable and will be showing up on your favorite street style star in no time.
Comfort Clothes
Yes, you heard me correctly. Baggy sweatpants and oversized hoodies are all the rage of fall 2016. Of course, when high fashion takes on any idea it twists it and molds it into something more unexpected than your typical pair of Hanes sweats. The "I didn't try at all" look has been making waves in recent years and it seems as if the fashion world decided to challenge themselves by taking something perceived as sloppy and lazy and turning it into a comfortable but cool look. Arguably the show this trend was found most in was Yeezy Season 3. Though Yeezy has been using this trend for the past two seasons, it seems as if other designers caught on to its success and latched on for the ride.