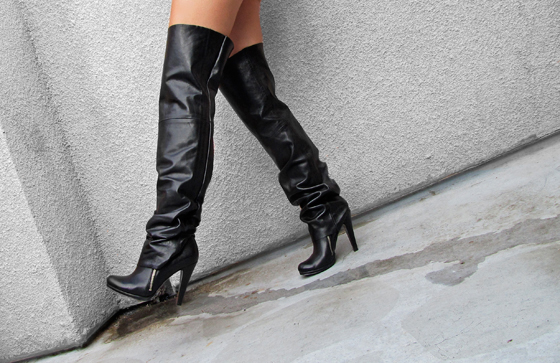 The holidays would be incomplete without a schedule full of festive events. In the same way, an outfit is incomplete without a great pair of shoes! The grand finale of the season is—without a doubt—the most important, outfit wise. It's almost impossible to not get in the party vibe when surrounded by the glitz and glam of New Year's Eve. Whether you choose to keep it simple with a small gathering of close family and friends, or go all out with a grand affair, your shoes must be able to keep up. No one wants to be that girl who has to take her shoes off halfway through the party.
Over-the-knee boots were seen everywhere this fall and they're here to stay this winter. Although heeled over-the-knee boots are to die for, a pair of shorter heels or a completely flat pair can give you the same effect while providing the added bonus of comfort. To dress them up, the possibilities are endless. Since the boots basically cover about half your legs, don't be afraid to wear something mini! An A-line mini skirt or a short dress are great options. Throw a long or oversized coat over your shoulders and you're good to go. To dress them down, try an oversized sweater. These boots are undeniably cozy and let you get away with not wearing pants! Another casual option would be a pair of leggings or jeans. Any top, at this point, will complete the outfit.
You can also never go wrong with a trusty pair of ankle boots. A short heel of two to three inches will ensure comfort. Ankle boots give you the freedom to be either dressed up or down, so you will not have to worry about being under- or overdressed. A chunky, sleeveless turtleneck sweater and a pair of your favorite jeans is one look you can try. Another is a sleek longsleeved shirt and a pair of trousers. If your event is super casual, mom jeans are a good option to fall back upon. They don't cling to your body, so you know you'll be both comfortable and trendy.
If all else fails, there is no shame in choosing to rock a pair of sneakers. However, they may not be best suited for that super fancy party. You can pull together an outfit that doesn't look like you're on super-chill mode, even though you are. Don't be afraid to play around with different looks. Of course, boyfriend jeans, ankle length jeans and leggings are all givens, but skirts are an option not to be overlooked. A short leather skirt, a loose fitting top and a pair of sneakers can turn heads when pulled off correctly. If you prefer jeans, a black, high-waisted, ankle-length pair with a sleek turtleneck tucked in and an oversized coat is a simple but effective outfit.
Regardless of how you choose to celebrate New Year's Eve, you should never sacrifice style for comfort. When you are trying to have a good time and enjoy yourself, uncomfortable shoes can hold you back. Impractical shoes are pointless and practical shoes don't have to be an eyesore.