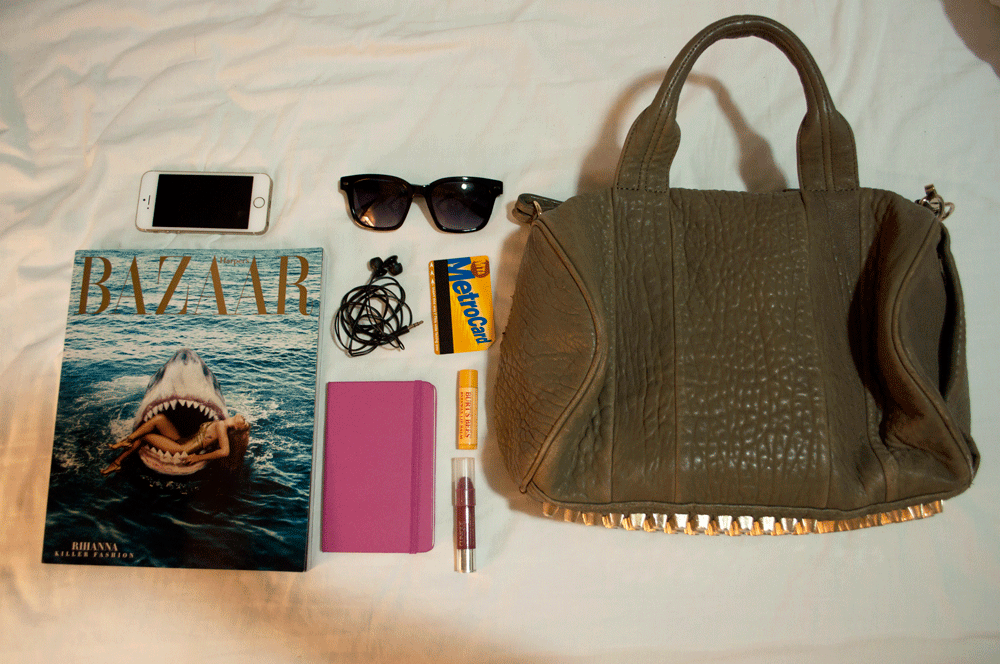 Since September, I have been working at Harper's Bazaar magazine for my cooperative education. As a full time fashion market intern, my duties include communicating with in-house brands and public relations companies on sample returns, maintaining the overall organization of the ready-to-wear fashion closet, assisting on set for photo shoots and supporting the editors on daily tasks. In short, my co-op is constantly keeping me busy and on my feet. As I conclude my co-op next month, I began to realize how the items in my bag had changed since I left Drexel University and moved to New York City. Here is an insight of what I bring to work every day in my bag.
My Alexander Wang Rocco duffel bag was a Christmas present from my parents back in high school. Since I got it, it's been part of my everyday life, whether it's during the day or night. It's the perfect size for a workbag as well!
My iPhone 5 might be the most important item in my bag for co-op. Because I am one of the few interns who works in the office every day (since many of my fellow interns are also full-time students in New York), my phone allows me to be in constant communication with them if I have any questions while they are not in the office.
One major thing I learned during my co-op was that wherever you go, you must always carry a notebook with you. Every time an editor calls you into their office, they will always ask you to do a task or a project for them. It is so important to make sure that you write everything down in your notebook.
Because I moved to Manhattan, the best way for me to commute to work is the subway. My metro card allows me to get from my apartment to Hearst Tower within 10 minutes!
I use my Diane Von Furstenberg earphones (that I got from work) to listen to my music during my commute to and from the office.
Carrying my Burt's Bees lip balm with me every day saves me from those chapped winter lips.
I try to keep my makeup simple, natural and fresh while I'm at work. However, wearing a little lipstick never hurts. I've been wearing Clinique moisturizing lip color balm in broadcast berry ever since my first day at work.
Even though the sun is rarely out during the winter, I still make sure my Loree Rodkin sunglasses are in my bag-just in case!
Harper's Bazaar March issue, featuring Rihanna on the cover, recently came out on the newsstands — make sure you grab a copy! It's an incredible and rewarding feeling when you see that all of your hard work is published in the magazine. It makes it all worth it!