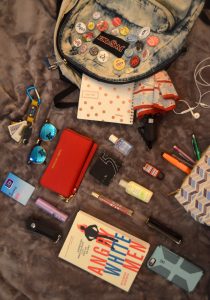 Annie Lefever is a junior design and merchandising major with a super busy schedule. She recently picked up a minor in sociology and switched from her everyday carryall handbag to an acid wash Jansport backpack with a lot of character to accommodate for the extra textbooks she now has to carry on a daily basis. Inside her pin-decorated backpack, she carries a ton of essentials to get her through the day.
First up, an umbrella, because who trusts the weather these days?
Her polka dot and striped planner keeps her organized and ensures she doesn't miss a beat. She writes down everything she needs to know, from due dates to birthdays.
She never leaves her apartment without her keys and her blue reflective sunglasses that she wears all year round.
The day would never be complete without a couple cups of coffee and a few snacks, so she makes sure to keep her Michael Kors wallet handy, along with Purell hand sanitizer to make sure her hands are clean and a pack of gum to have minty fresh breath.
She keeps a few rescue materials like Dr. Scholl's Rub Relief stick in case her shoes get too uncomfortable, and pepper spray.
To touch up her beauty, she has Clean & Clear oil absorbing sheets within reach, along with two mini perfumes and a hand lotion.
Whenever she has downtime during the day, she pulls out "Angry White Men: American Masculinity at the End of an Era" by Michael Kimmel, a book she has to read for a sociology class. If she's not in the mood to read, she turns to her iPhone, instead, and plugs in her earphones.
The final items in her bag include a striped USB to save all her papers and design work, and a chevron pencil case with her writing materials.