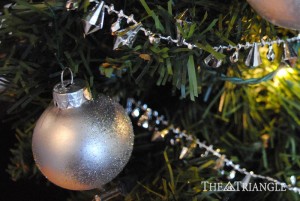 From a young age I started displaying a small, pre-lit Christmas tree in my room each year for the holiday season and decorated it based on my current style preferences. I have since graduated to a larger tree for my current apartment, but over the years I have accumulated quite the collection of decorations, most of which I have outgrown stylistically. This year I had the idea to do a modern interpretation on decorating for the holidays with a metallic-themed tree. Rather than buying all new ornaments, I decided to save a couple bucks and revamp my eclectic collection of ornaments to fit my current taste. I bought a can of metallic sliver spray paint and a bottle of loose glitter and went to town on my old ornaments. To get the same results, follow my step-by-step instructions to make your own do-it-yourself metallic ornaments.
Materials Needed:
-Newspaper
-Rubber gloves
-Ornaments
-Ornament hooks or paper clips
-Metallic spray paint
-Loose glitter
Steps:
1. Spread out newspaper in an outdoor area.
2. Wearing rubber gloves, hold the ornament by the hook over the newspaper and spray an even coat of spray paint over the entire ornament. If you don't have ornament hooks, bent paperclips will work.
3. Hook the ornament somewhere to dry where it will not rub against anything. I used a metal outdoor planter stand.
4. Wait 10 minutes and spray and second coat of paint and immediately sprinkle the ornament with glitter as desired.
5. Repeat step 3 until ornament is completely dry.