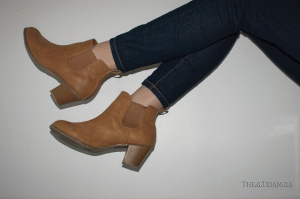 Summer is quickly changing to fall, which means it is time to change up your shoe selections. Christian Louboutin once said, "Shoes transform your body, language and attitude. They lift you physically and emotionally." Keeping his words in mind, it is time to kiss the flip-flops and strappy sandals goodbye until next summer. This fall, fresh new boot styles are adding a bold flavor that is more enticing than the return of the pumpkin spice latte. While a pair of sneakers may be comfortable and heels cause most people to wince in pain, boots are a chic and trendy way to show your personal style.
Hitting the runway and shoe stores all over the country are leather boots. While leather boots may sound like something straight out of the '80s, the classic cut has been revamped to make a bold new statement. Designers such as Jimmy Choo, Gucci and Tory Burch have come out with modern midlength and knee-high leather boots that can be dressed up or down. The first place to stop with your shoe shopping list should be Rittenhouse Square. A subway ride away from Drexel's campus holds a world of shoe stores and boutiques — including prominent designers such as Steve Madden, Kenneth Cole and Polo Ralph Lauren — where the runway styles are abundant.
While a pirate may be on a quest for the "booty," searching for a pair of booties this fall is a must. Walking the city streets may cause feet to feel worn out quickly in a pair of flats or boat shoes. Booties are ankle-high boots that are typically flat on the bottom but occasionally have a small wedge for extra support. Paired with leggings or jeans, booties are perfect for busy days spent running around campus. Aldo in The Shops at Liberty Place is a top seller of boots of all kinds, and this month they are having a sale on booties. Details range from simple buckles to beading, gems and fringe. Pop in and find a pair of booties that will boost both your savings and your confidence while wearing them!
Feeling ambitious or looking to show off your style throughout the city? A pair of high-heeled boots is the perfect choice. The trendiest high-heeled boots this fall have elaborate zippers, multiple buckles and animal print. Bare Feet Shoes in Center City is ranked No. 2 on Philly's hot list (check out the full list at phl17.com) for the city's best shoe stores. Shop the trendiest boots at barefeetshoes.com and have a pair shipped directly to campus.
Be prepared for the elements with a pair of trendy rain boots that won't ruin your great outfit. A fashionable type of rain boot that is still comfortable and looks great is Hunter's. These boots have bright, cheerful and sunny patterns to keep you and your feet feeling positive on a dreary day.
Another boot style that is essential for this fall is a pair of combat boots. While they have the comfort and flexibility of a sneaker, they are still incredibly trendy. Combat boots can be jazzed up with buckles and beading, too.
Finding a pair of boots that fits your personality may be the hardest challenge. There are many boutiques that carry versatile shoe styles in Rittenhouse Square such as Ubiq Life and Blue Sole shoes. Leather boots, booties, high-heeled boots, rain boots and combat boots are all in style, so slip on a pair and feel ready to tackle the day ahead of you.