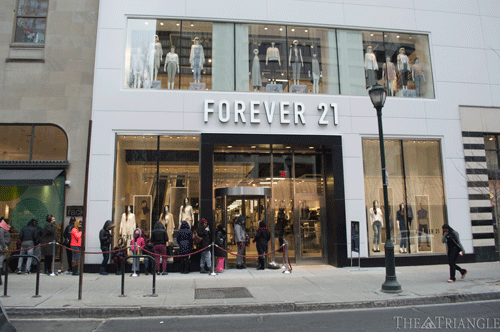 After waiting almost a year since the official announcement, and several years of secretly pining for this fast fashion retailer, I was one of over 600 people that finally lined up outside of 1708 Chestnut St. Feb. 14 for Forever 21's grand opening. The first 300 people in line were given gift certificates to spend that day ranging from $10 to $220. Customers began queuing at around 6:30 a.m., and by 9:15 a.m., when I arrived to the party, there were already at least 400 people standing there in a line that wrapped around the whole block. When asked why they were waiting in line for so long, answers ranged from being avid fans of Forever 21 to just wanting to be a part of the exciting opening event. One customer said, "I came because I was excited for free money."
To thank people for waiting in line, Forever 21 employees handed out multi-colored ribbon hair ties about 20 minutes before the opening. At promptly 10 a.m., the line already started moving pretty quickly. Being somewhere in the 400s, I had expected to wait outside for a while after doors opened, but was pleasantly surprised when I was already inside within 15 minutes.
Walking into the store, I was greeted with upbeat music and Forever 21's very consistent interior layout. The two-level store holds five fitting rooms on the first level and 13 on the second. According to the assistant store manager of merchandising, Tecuya Williams, the store can hold up to 1,300 people comfortably. When asked how long the preparation took before the event, Williams said, "It was a week; it was a long week. We did like 12 hours a day. This is my sixth day working. It's been kind of extensive." Beginning on that Monday, a team of new store opening managers began setting up. Williams explained, "Everything comes in boxes. All of the processing we do ourselves too, like unwrap all the merchandise, all of the mannequins and things like that."
After unpacking all of the boxes, the merchandise is split off into different shops for certain types of consumers. These shops are based off of trend forecasting research for the area. According to Williams, the store receives nearly 250 boxes of merchandise per day that all have to be sorted into a certain shop. Many of their newer spring elements are sorted into the "now girl" shop, which includes trendier pieces such as long trenchcoats and joggers.
While the store's grand opening was the morning of Feb. 14, because they finished setting up early, there was a soft opening the day beforehand. Williams said, "We did a little soft opening and we did $27,000 just yesterday. Our projection for the year is $7 million that we have to make for the store. Of course our competitors are H&M, Zara and the Gap."
Then I finally asked the question everyone has been wondering, "What took Forever 21 so long to come to Philadelphia?" Williams answered, "We were trying to get a great location for almost four years now. I've been with the company for nine years. What it is that the rent is so high down here, so we wanted to make sure that we were close to our competitors. With H&M right there and Urban Outfitters around the corner, we were just trying to get a great location so it took a while for the owner to find this one."
After speaking to Williams and despite original intentions of not purchasing anything, I did a little of my own shopping. The store had a few opening specials, including basics such as leggings and V-neck T-shirts, but nothing too extravagant. After picking up a few items, I got into a line that had wrapped completely around the first floor and weaved in and out of the merchandise, making it extremely difficult to shop for other customers. The line took almost an hour to reach the cashier and was disorganized to the point of frustration. Surprisingly little to no shoppers left the line, fully determined to walk out of the store with their brand-new grand opening purchases. I guess they waited so many months for the store to arrive that the extra hour flew by quickly in comparison.
Apparently teenagers and 20-somethings are not the only ones excited about Forever 21 coming to the city. District Visual Manager Heather Pasco said, "We came to the city just to kind of announce that we were coming. We did this about a week ago, we had store managers from other stores jumping up and down, hugging us saying, 'Oh my god we've been waiting for you!' When we had shipments at 12 midnight, cars were driving down the street asking, 'When are you guys opening?' People are thrilled that we are here and we are excited to be here."
Now that Forever 21 has opened, along with other recent fashion retailers Uniqlo and Nordstrom Rack, shopping at Chestnut Street is beginning to rival that of Walnut Street.