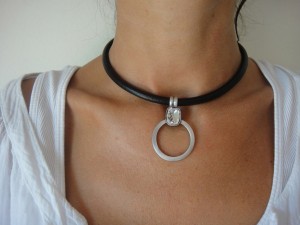 For this fall and winter season, the fashion world's accessory trends are quite varied, featuring shoes, jewelry and scarves. It's no secret that fashion trends repeat themselves; however, every time a trend re-emerges, it appears in a new way.
The over-the-knee boot has eased its way back into the season once again. Although it might be paired with simple jeans or leggings, the newer way would be to rock it with a short, flouncy dress. These shoes are usually accompanied with a high skinny heel but designers have taken the liberty of lowering the heel in order to make them more casual and comfortable. Materials like leather and suede give these boots that luxurious feel.
Back in the '70s, every lead singer in a rock and roll band sported a skinny scarf, probably in an obnoxiously sequined material or bright color. In 2015, the skinny scarf is making its entrance into the fashion world in darker, more subdued colors such as black, burgundy and navy. Channel the '70s by wearing this cool trend with a black tank, leather jacket and jeans.
Chokers are one of those trends that either come off really cool or just plain weird. This accessory is not meant to be "flattering" to the body. However, it exudes a level of coolness and rebellion. The necklace breaks up the proportion of the body while making it look completely awesome. Layer the choker with other necklaces that are varied in length, width and sizes to create a dimensional look.