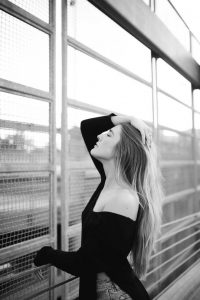 As the end of summer approaches, we welcome the fall season with open arms. What aren't  as welcome as the cold nights, bonfires and pumpkin spice lattes we all look forward to are the seasonal transition outfits we find ourselves donning. Those hot fall days where we're not sure if wearing a mini skirt is still acceptable are frustrating. It's difficult to let go of the fashion trends we loved over the summer, but transitioning your wardrobe isn't as difficult as it might seem. Here are a couple of ideas to get you a head start on the migrating your wardrobe from summer to fall.
Slip dress
It was the summer's "it" dress and made a very evident appearance in the fashion world. Whether worn in day or night, they brought a fresh, easy and breathable option to the closet in those warm months. But don't hang that dress up just yet! Layer a high-neck, plain white tee under the dress to create some contrast and keep you a little warmer. Add some ankle boots or sneakers and you've just extended its lifetime a few more months.
Short overalls
Denim overalls were one of the most simplistic summer pieces in 2016. You could just throw a crop top on under it and be  ready for the day. For fall, simply reconsider the top paired with the overalls. Opt for a thin turtleneck or pullover sweater. Either will create a nice balance between the length of the sleeves and the shortness of the overalls.
Denim mini skirt
The denim mini skirt was snatched right out of the '60s. It's casual, cute and very versatile. For this garment, you'll want to play up your shoes.Thigh-high boots could be one option or you could try knee-high socks, paired with heels. Your entire leg won't be out for show, but you'll definitely get the fall "feel."
Off-the-shoulder blouse
This trend was practically everywhere this summer! Wear this blouse with high-waisted flare jeans — a little more of the '70s would do this top some good. It will highlight your shoulders even more since it will be the only skin showing. It's subtle but sexy!
Though transitioning can be very challenging, it forces us to think creatively with our wardrobe. We get a chance to make our own looks up and potentially spark new trends in the world. So be bold, and have fun with it!