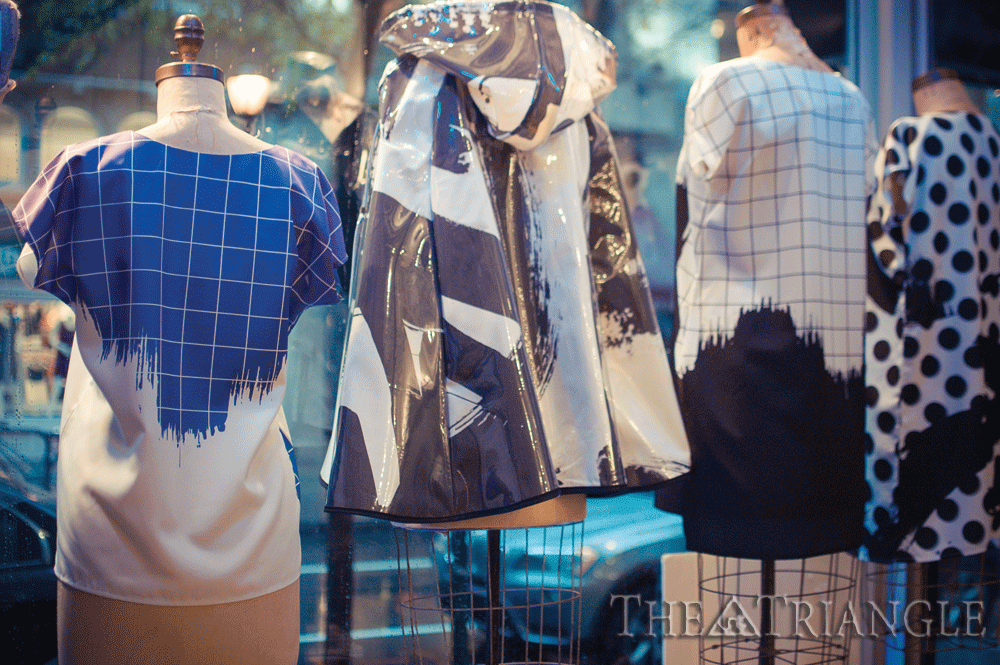 K
nit Wit hosted a pop-up shop of Dom Streater's newest collection for the spring 2014 season April 29 in Philadelphia.
The Philadelphia native and winner of Project Runway's 12th season has been working in the city to develop her latest collection following her recent win. Dubbed the "new mod" and inspired by the '60s era of British fashion, Streater's collection features a graphic polka dot motif and grid patterns. The designer has updated these classic prints, as is her signature, with digital printing and a painterly brush stroke effect.
Streater said her design process was customer oriented, as she wanted to ensure the pieces could be easily incorporated in the modern woman's wardrobe. Several attendees, including part of Streater's publicity team, donned samples of the Draped Tee, a long-line silhouette with a scoop next and thick black trim along the hem. A popular piece among the guests was the collection's hooded Draped Rain Cape, perhaps due to the dreary weather the city was experiencing that evening.
Streater, who has been actively designing since her Project Runway win last year, said she has had the opportunity to show her collections at fashion weeks in New York, Philadelphia and Atlanta. In addition to her ready-to-wear pieces, she is also continuing to design custom work for clients, for events ranging from red carpet events to bat mitzvahs. 
While the designer has been in contact with the cast and producers of the reality show that helped propel her to fame, she noted their relationship remains supportive and not overbearing. The greatest change she has experienced has been her opportunity to design more, Streater said. Local business owners, including Knit Wit owner Ann Gitter, have also provided her with mentorship and valuable advice. According to Streater, it was Gitter who reached out to host the exclusive pop-up event, as a part of Gitter's efforts to support young designers. 
A graduate of the Moore College of Art & Design, Streater encourages young aspiring designers to expose themselves to as much of the industry as possible. As an intern, Streater gleaned the most valuable experiences when she took the initiative to learn something new. While coffee runs may be part of one's duty as an intern, Streater also stressed the importance of making connections and getting to know the people you work with. Before becoming a freelance designer, Streater completed several internships at Complex Magazine and Fabric Horse, providing her with a relevant and diverse background.
Going forward, Streater only hopes to still be in business. Small enterprises, especially fashion lines, are exceptionally difficult to maintain, Streater said, but she hopes to achieve longevity and build a lasting, enduring output for her creative vision.