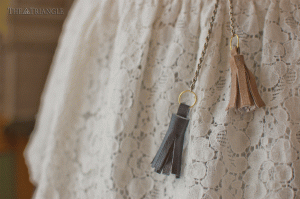 Taking a page from Phillip Lim 3.1, which has arguably produced some of the most sought-after accessories of the year, we have reinterpreted the leather tassel key chain to fit seamlessly into both your wardrobe and your budget.
You will need:
(faux) leather or suede
super glue
large jump ring
scissors
pencil
ruler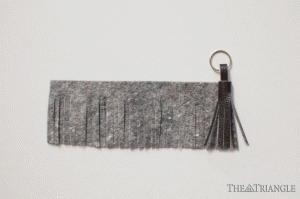 Cut your fabric to the desired size. Ours measured two inches wide and eight inches long, but the dimensions can be adjusted according to your specifications. From the top edge, measure one-quarter of the entire length, and using your ruler as a guide, draw a line across the fabric. This will determine where your tassels begin. Next, use your scissors to cut small strips, starting at the bottom and ending at the line you just drew. These are your tassels! When you get to the end of the fabric, cut one strip off entirely. It will attach the tassel to your jump ring. Loop the small strip through your jump ring, glue the ends together, and then glue the closed end to the top corner of your fabric piece. Let the glue set for a couple minutes. Now all you need to do is roll everything together, adding glue as you go.
To wear your tassel as a key chain, simply replace the jump ring with a key ring. To rock a fringe-detailed necklace, just string a chain through your jump ring.