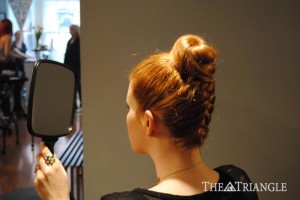 Looking for a chic new way to style your hair for the holidays? Or maybe just a way to style your hair between shampoos without looking like a slob? We visited Crimson Hair Studio in Rittenhouse Square, where hair stylist Francesca Brittingham showed us how to create two perfectly polished top buns for an of-the-moment look. These hairstyles work on mid-length to long hair of any hair texture. The first is a classic top knot, which is easy enough to do on your own. The second is a more advanced version, which is French braided in the back. It might require you to enlist a friend if you're not an expert at French braiding.
Materials Needed:
-Comb
-Hair tie
-Bobby pins
-Styling wax
-Hairspray
Classic Top Knot
Difficulty Level: **
Steps:
1. Start with dry hair. Flip your head upside down and comb your hair into a sleek, high ponytail on the top of your head. Secure the ponytail with a hair tie. Brittingham used small, nude-colored hair elastics. If you have curly hair, feel free to comb your hair with your fingers for a more natural look.
2. Fan out your ponytail so that your hair is distributed equally around the base of the ponytail. Then wrap sections of hair around the base of the ponytail and pin the ends in with bobby pins until all hair is incorporated to form a bun.
3. Pin any stray hairs, and finish off the look with a touch of styling wax and a light mist of hairspray for a long-lasting, polished style. Brittingham used Bumble and Bumble's Styling Wax and Does It All Styling Spray.
French-braided Top Knot
Difficulty Level: ****
Steps:
1. Flip your head upside down and section off the top-center layer of hair. Divide this section into three even sections and French braid starting at the scalp.
2. Continue braiding up until where your ponytail will be secured. Comb hair into a high ponytail.
3. Continue with steps 2-3 detailed in the classic top knot instructions above to finish the look.