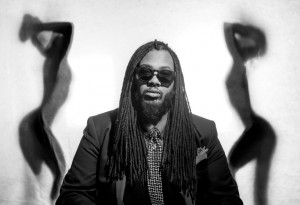 When we envision a well-dressed man in a nicely tailored suit, that suit would typically be in black or in an unexpected neutral color. However, one local Philadelphia designer is changing the way we envision that garment. 24-year-old LeGrand Leseur is creating tuxedos that push the limits of what we know when it comes to the classic number. With bold colors, attention to detail and innovative designs, Leseur is taking what we know about tuxedos and creating something totally new and exciting.
Before launching his own fashion house in 2013, Leseur studied music at school and worked on designing T-shirts. However, he soon came to the realization that everyday streetwear was not his calling, and he found his passion in the tuxedo business. The designer noticed a lack of innovation in this sector, and decided that he would be the person to fill the gap. His creativity was even further validated when he was voted Best Tuxedo and Best Men's Clothing in PHL 17's Hotlist competition. Leseur also won Philly Happening's Best Men's Retail award.
Leseur's suits are for those looking to stand out and go against normality. Specifically, Leseur said he "designs clothing for the individuals that want something classy and stylish but with a twist." Another creative aspect about Leseur's suits is that they can appeal to not only men looking to make a statement, but to women as well. Each piece is custom made according to the client's style so each garment is unique and special. With options and features such as mismatched sleeve colors, diagonal buttonholes and even triangle and oval breast pockets, Leseur's tuxedos speak for themselves.
As for finding his inspiration, Leseur said, "as a designer, my inspiration has to be the lack of functional creativity in the fashion world. Designers are spending so much time in shock value that they are overlooking one of the major components of fashion: functionality. I want to create pieces that people actually wear. Items that don't make people look utterly ridiculous. Having a person in 10 inch platform heels and an over-sized fur coat on the runway doesn't work for the everyday person. As designers we should be looking to create new trends, not start unattainable fashion goals for the masses."
More recently, the designer had created an eyewear line for those looking to make a statement. With all the attention and praise Leseur has received in his short time in the fashion industry, we can only imagine how far the label will go in the future. When asked about his plans, LeGrand said, "I'm looking at opening up stores along the east coast over the next few years. Once launched I will also be looking into moving forward with my women's line that I am really excited about." We are definitely excited as well and are looking forward to seeing him take the couture world by storm!
To find more information about Leseur's line, visit www.legrandleseur.com.