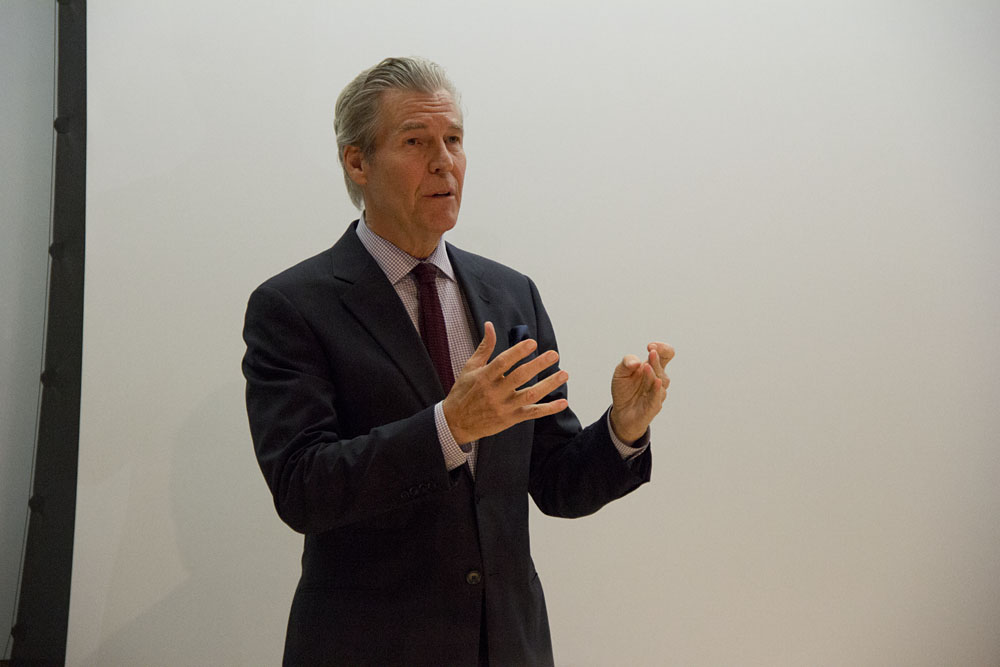 The CEO of Macy's Terry Lundgren visited Drexel¬ May 28 l as the 2014 Design & Merchandising Distinguished Speaker.
Lundgren was awarded with the third annual Westphal Award from Drexel's Antoinette Westphal College of Media Arts & Design. The award is given to a distinguished, successful and philanthropic individual in the retail industry. Lundgren came to share his insight with students and faculty about his success as CEO, president, chairman of the board and director of Macy's.
The CEO addressed a full audience at the URBN Center Annex at 3401 Filbert St. After the introductions, he began his presentation with several jokes because the video presentation he prepared did not work. Lundgren first provided insight into the history of Macy's and how he rose to the position of CEO of the company. He explained how he worked in the retail industry as a buyer and manager, starting in 1975. He worked his way up from department stores owned by Federated to joining Neiman Marcus in 1988. Lundgren's presentation focused on how he believes Macy's is successful because they care about their customers and they want their customers to have the best experience at their stores.
While Lundgren did not have a set presentation, he tried to enforce the idea that the success he has received is from his hard work and dedication to make Macy's an important and dominant brand in the retail industry. Lundgren detailed how specific designers can only be found at Macy's, aside from their own stores, such as Ralph Lauren. He explained that the company does its best to provide for the consumer in each of the 45 states that Macy's occupies. With over 850 stores, Lundgren explained that they have an overall merchandising plan but it's tailored to the specific needs of different areas, such as maintaining a year-round bathing suit section in Florida. He described how he believes Macy's has some of the most talented design and business teams, which allow for these unique aspects of each store to happen.
While the major focus was on the in-store aspect of Macy's, Lundgren detailed how Macy's is becoming "omnipotent" by way of building an online retail empire. Lundgren revealed that Macys.com is ranked third just below Netflix for generating the most online revenue. He explained that the company is working hard on their site to provide products to consumers that they may not be able to find in the physical stores.
According to Lundgren, Macy's is also pushing to provide for the new millennial population. He believes that the company has something for everybody, but it is most important to grab customers at a younger age. He explained that students right out of college need nice clothes and they will come to Macy's, but they will also stay at Macy's because as they mature in their professional and personal lives, they will find something they need at every stage of life.
Lundgren explained that even if an associate at Macy's cannot make a sale, he believes that he will make up for that sale in the future because his product is at the best price. According to Lundgren, Macy's believes that the customer is the most important and if the associates can provide a great experience for that customer, they will want to come back and buy from the company in the future.
While his presentation was filled with information on the success of Macy's, Lundgren did not provide many tips for students regarding how he became so successful in the industry on his own. The distinguished speaker did not include much insight into the fashion aspect of Macy's or why they are promoting certain styles and designs, aside from trying to appeal to a younger generation. Lundgren also did not mention any of the stores that are in competition with Macy's. While the presentation was insightful into the world of department stores, it is clear that Lundgren is a firm believer in keeping his secret to success a true secret.