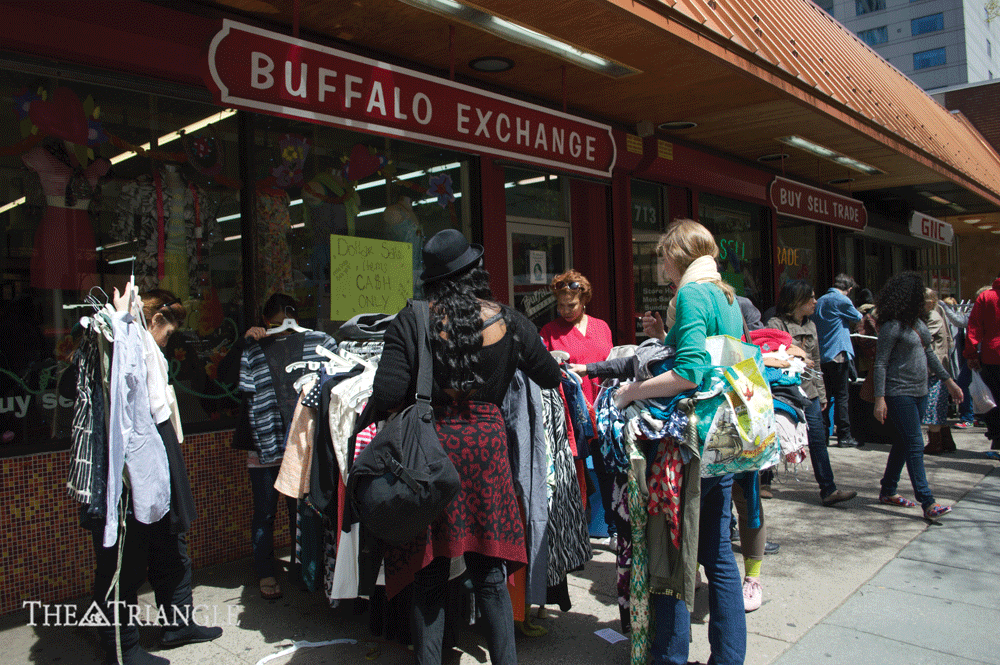 Walking down Chestnut Street this past Saturday, I was greeted by friendly shouts.
"One dollar! Everything outside! Dollar sale for charity!"
Judging by the crowd that had formed outside of Philadelphia's Buffalo Exchange, I knew I had arrived at the thrift store's annual Earth Day fundraiser, Keep the World Blooming. The secondhand store is known for carrying a variety of trendy and eccentric pieces at an affordable price. Shoppers buzzed around several clothing racks and bins containing discounted treasures. I stopped to talk to store manager Mike Shaffer, who was welcoming passersby to the sale.
Shaffer mentioned that the Earth Day events are the largest charity events held by Buffalo Exchange each year. "The event began at 10 a.m., but the lines started forming much earlier!" he said, noting the popularity of the affair.
According to Shaffer, all proceeds from Keep the World Blooming across 49 stores went toward a non-profit organization selected by the brand. Past donations have gone toward a variety of campaigns by The Humane Society of the United States, including Don't Trash Wildlife, Be Cruelty-Free and Save Ocean Animals. This year, Buffalo Exchange partnered with the Arizona-Sonora Desert Museum to help raise awareness for pollination conservation. The event, Keep the World Blooming, was named to emphasize the need for pollination hotspots to help restore pollination. The non-profit organization will put the proceeds toward locating these hotspots within the Sonoran Desert in Arizona.
Although this is the main fundraising event each year, Buffalo Exchange gives back to the community regularly. Along the window, brightly colored flyers advertised its Coats for Cubs program. The flyer asked for donations of real fur to be used to help in animal rehabilitation as bedding. It also has a Tokens for Bags program that donates five cents to local non-profit organizations for every plastic bag a customer forgoes when making a purchase. The current organizations, according to Buffalo Exchange's website, are Reach Out and Read, Delaware River City Corporation, and Bella-Reed Pit Bull Rescue.
I watched as shoppers continued to enjoy the ultimate sidewalk sale, grabbing all that they could hold and flocking toward new merchandise as it was being placed on the racks. Buffalo Exchange floor assistant and fellow Drexel sophomore Gabriella Duncan did some shopping herself as she greeted new customers. Taking advantage of the sale, she openly admitted that she placed quite a few items on hold for herself. Scoring a great sale while giving back to the community left all customers happy as they made their purchases. I am sure bargain shoppers everywhere are marking their calendars for the next annual Earth Day dollar sale; I know I will.