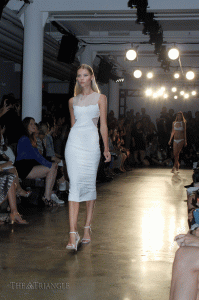 Mercedes-Benz Fashion Week is the most essential event of the fashion industry. Invites to this fashion affair are most coveted among fashion lovers and industry moguls worldwide.
New York Fashion Week takes place twice a year, once in September and once in February, to showcase designs as far as two seasons ahead. The idea of a centralized gathering for press to come and view designers' latest fashions was born in the 1940s and has since grown into the phenomenon that we know it as today. In conjunction with International Management Group and with help from the Council of Fashion Designers of America, Mercedes-Benz Fashion Week first made a name for itself in 1994 in the tents at Bryant Park, but starting in 2010 the location was moved to Lincoln Center.
In recent years, the front rows have been filled with more celebrities and bloggers than ever before. At one time, only the press was invited to the shows and now it is a bit of a free-for-all. Before fashion week was a media circus, it was geared primarily toward buyers and editors who came to see what new trends they wanted to showcase in their stores or magazines.
Anyone who has had the privilege of attending a fashion week show knows the chaotic magic that happens on the runways. The experience of a designer's show starts out much like a waiting game: Everyone takes their seats and the press swarms the front row attendees until the lights go down and the first trance-inducing beats of music start to play. Models walk the runway in the beautiful creations by the designer and essentially everyone is on their phones and iPads snapping pictures or taking notes. By the time the last model walks down the runway and all of the models reappear for one last glimpse at the collection, it seems like the show took place in the blink of an eye. Often, the designer will come out and wave, or in Betsey Johnson's case, do a few cartwheels and a split down the runway. Then, the mad dash for the door ensues and everyone is rushing to hail a cab and get to his or her next show or presentation.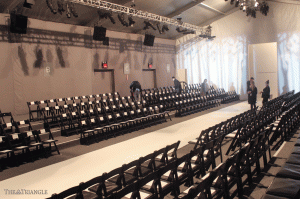 Presentations have become more popular over the past few years because they are less costly than showing at Lincoln Center, and the viewers are able to really get a close-up look at a designer's creations. A presentation tends to be less chaotic as well because they are usually held in an open space, such as a loft, where models stand or sit in the clothing and spectators can get very close to inspect the smallest details of a garment. Another advantage is that presentations last longer than a fashion show, so people tend to come and go as they please rather than rush to their seats and then out of their seats — in a presentation there are generally no seats at all.
Fashion week is a time for each designer to make a statement about where their collection is going for the season. Some shows have coherent themes while others seem like a mix of whatever was going on in the designer's brain at that time. Luckily, for up-and-coming fashion gurus in the making whose names have yet to make it on the invite list, many designers have started to broadcast their shows so that people all around the world can view from wherever they are. This technological development gives people a taste of what being at an actual show during fashion week is like.
This upcoming fashion week takes place from Feb. 6 through Feb. 13and will be showcasing looks from designers' fall and winter 2014 collections. It is always interesting to go to a show in September when the air is starting to get brisk and see models donned in pastel tank tops and shorts, or in February when everyone is gearing up for a sun-filled getaway and outerwear in rich tones is sent down the runway. This goes to show that fashion is always at least two seasons ahead, and trends are set much further in advance than what meets the eye.